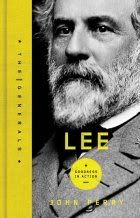 I have always been a person to like history. My grandfather served in WWII and he was always telling me stories. When I hit high school it was no surprise that I was very interested. However, I was surprised at all the other happenings over time that I would be interested in. I am sure that John Perry in no way intended on expressing the entire life of Lee in this biography.
I am surprised at the amount of information included in this book about Lee's family roots. There were a lot of details about him as the man, not the military icon that he has turned out to be. This book is written in a way that it depicts a wonderful portrait of the general. the nook also includes a great many quotes of the famous general. I believe those are my most favorite parts of books, quotes and actual depictions of actions taken place by the person being portrayed. Lee was a humble man, but a great man who in a time of great despair followed his faith and became a huge military figure.
There are probably hundred of books out there that address General Lee's life, but I am sure this one is probably the best. It moves at a fast pace through his life, but is understandable. You are not lost while reading the time line. I would recommend this book to anyone who is interested in history, the civil war, or just military figures in general. The story also shows the trials and tribulations that families went through in the south during the war. I believe these chapters were written with the greatest respect, and awe as I felt while reading them. Thinking of the time when his life took place, even though he was under the confederate flag, he was a faithful man to his service, considering the situation. I had to look at it from the prospective of the south, to fully understand the impact of what the war was really about. In school, we were really only taught it was about slaves, north and south, and the north prevailed. Not a whole lot to go on, unless you want to investigate. I am glad to have that interest to want to know the whole story, even if there are two sides to every story, I am the type of person who wants to hear both. This was a great way to hear the side of the south, and surrounding one of the biggest icons of the era.
Being only 27, I have had the liberty of being free, happy, and healthy. I see that the founding fathers of this country weren't so lucky, and I thank each and everyone of them for the life I live today. If it were not for the amazing people, such as General Lee, our country would not be as it is today. Overall I loved this book, and would enjoy reading even more from John Perry.
Disclosure of Material Connection: I received a complimentary copy of Lee (The Generals) - A Life of Virtue By John Perry as a member of the Booksneeze.com Book Review Team. I was given the book solely for my honest opinion(s), and review.