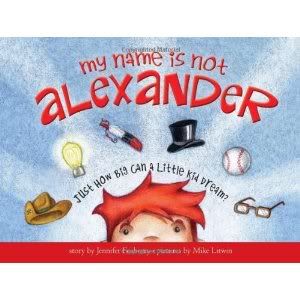 I love to read, and therefore my children love to be read to... and I was delighted to find out i would be receiving this book to review. This maakes a great bedtime story, I believe, because it depicts a child's imagination and the book does end with going to sleep. I love books that my kids ask questions about. My daughter is only 2 so she asks the main questions, What is that? Where he going? What they doing? My son, however, is 5 and asks the other questions, like the big one WHY?
Through My Name is Not Alexander, Alexander pretends to be other famous men. First pretending to be Theodore Roosevelt, then on to Thomas Edison (That was my son's favorite), jumping then to Joseph (the famous Cheif), dances his way to Fred Astaire, then onto Jackie Robinson (a great baseball favorite). He then becomes his ultimate hero for a portion of the day - Daddy. Of course, by bed time he becomes Alexander just in time to sleep out in the tent with his father.
I must say my son asked me so many questions about who these people were and why they were so important, LOVED IT! That is quality time teaching a child and having fun doing it. I will definitely recommend this book to my friends and family with children so they can have the awesome time with their children I had with mine.
About the Author
"
Jennifer Fosberry
is a science geek turned children's book writer. After working in the high-tech industry in Silicon Valley and running away to Costa Rica for a few years, she returned to the San Fransisco Bay area to read, write, raise kids, and not do too much housework. She lives with her husband and three children and wishes for a puppy."
~From Sourcebooks & Jennifer Fosberry's
Personal Website
Jennifer Fosberry will also be touring through the following locations to promote the launch of the book in March:
Thursday, March 10th
2:00 PM
Towne Center Books
555 Main Street
Pleasanton, CA 94566
Phone: 925-846-8826
http://www.townecenterbooks.com/events.htm
Friday, March 11th
10:00 AM
Book Passage
51 Tamal Vista Boulevard
Corte Madera, CA 94925
Phone: 415-927-0960
http://www.bookpassage.com/event/jennifer-fosberry-my-name-not-alexander
Saturday, March 12th
1:00 PM
Costco
43621 Pacific Commons Blvd
Fremont, CA 94538
Phone: 510-897-1092
Sunday, March 13th
11:30 AM
Kepler's
1010 El Camino Real
Menlo Park, CA 94025
Phone: 650-324-4321
http://www.keplers.com/event/children-make-terrible-pets-storytime
Tuesday, March 15th
10:30 AM
Tattered Cover Book Store
2526 East Colfax Avenue
Denver, CO 80206
Phone: 303-322-1965
http://www.tatteredcover.com/event/meet-author-storytime-jennifer-fosberry-my-name-not-isabella
Wednesday, March 16th
6:30 PM
Barnes & Noble, Pima & Shea location
Scottsdale Fiesta Shopping Center
10500 N. 90th Street
Scottsdale, AZ 85258
Phone: 480-391-0048
http://store-locator.barnesandnoble.com/event/3086490
Thursday, March 17th
Time – TBD
Changing Hands Bookstore
6428 S McClintock Dr
Tempe, AZ 85283
Phone: 480-730-0205
http://www.changinghands.com/event/2011/03/14/month/all/all/1
Saturday, March 19th
11:00 AM
The King's English Bookshop
1511 South 1500 East
Salt Lake City, UT 84105
Phone: 801-484-9100
http://www.kingsenglish.com/event/jennifer-fosberry-and-my-name-not-alexander
Saturday, March 19th
1:00 PM
Barnes & Noble
1780 North Woodland Park Drive
Layton, UT 84041
Phone: 801-773-9973
http://store-locator.barnesandnoble.com/event/3053383-32
Sunday, March 20th
3:30 PM
Books and Books
265 Aragon Avenue
Coral Gables, FL 33134
Phone: 305-444-9044
http://booksandbooks.com/jennifer-fosberry
Wednesday, March 23rd
4:00 PM
The Book Mark
299 Atlantic Blvd
Atlantic Beach, FL 32233
Phone: 904-241-9026
Saturday, March 26th
10:00 AM
Doylestown Bookshop
16 S Main Street
Doylestown, PA
Phone: 215-230-7610
http://www.doylestownbookshop.com/event/fosberry/032511
**Disclaimer: I was provided a copy of "My Name is Not Alexander" by Sourcebooks for review. I have given my honest opinion of this book. No other compensation was received.