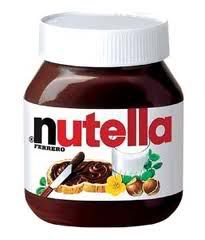 Wow, I was privileged enough to hold a
Nutella
Party from Mommy Parties! I have always loved Nutella! It is like a Chocolate Hazelnut Decadence in a jar! I haven't had any for a while, until I received the e-mail about holding the party, I missed you
Nutella
!
My party kit came with 3 recipes in it, and I wanted to make some of them so my guests would want to then make them at home. There was one for a Tortilla Roll, English Muffin Sandwhich, and a Waffle Sandwich. I opted to make the Tortilla Rolls and Waffle Sandwiches.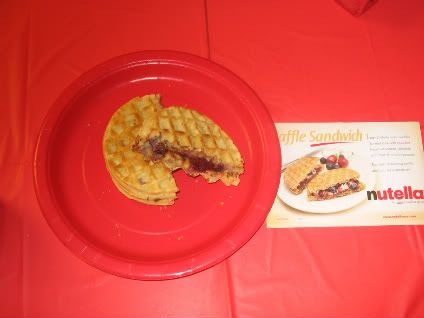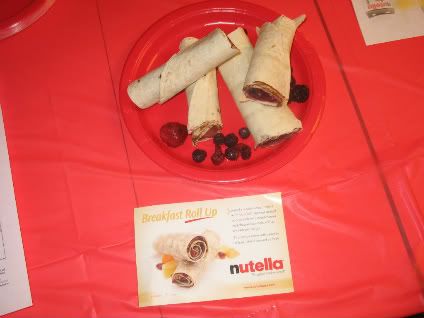 My kids absolutely loved the spread. I could never get them to eat Wheat bread, but I guess when it is topped with all that wonderful goodness, kids will eat it! My dad had the great idea of trying the recipes with bananas instead of the berries...So he ran to the store and grabbed some bananas and everyone loved that also! I am sure there are a million recipes for Nutella out there, I am sure the possibilities are end less!
Of course, everyone LOVED their Goodie Bags, that included a sample of Nutella, a Eco-Friendly Travel Coffee Mug, a Nutella Spreader, and the recipes and facts about Nutella and breakfast!
Here is a slide show of all of the photos that came out, for some reason, my new camera decided to only take the top half of some pictures and I didn't realize it until I was uploading :(
But...My favorite part, was my fiancée participating with us moms! SEE BELOW lol!
Thank you Mommy Parties and Mom Select for this wonderful experience, from myself and my guests!
**Disclaimer: I was provided a Nutella Party kit from Mommy Parties and Mom Select to host this party. I have given my opinion about this product. No other compensation was received.