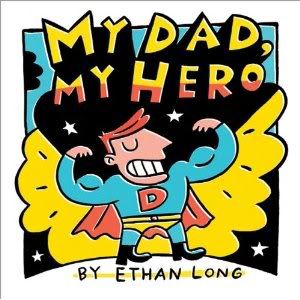 I got to review this cute book just in time for Father's Day. I really enjoyed reading this book to my kids. My fiancée, is not their real father, however, he is all that they have ever known. He is an amazing father, and my children adore him. They love spending time with him any chance they have, they wait for him to come home from work everyday, and enjoy just "dad time". Before I had met him, it was just me, and yeah, I tried my hardest to be dad too, going fishing, playing ball, riding the four wheelers, etc... However, it is not the same as having "dad".
This book is written in a very clever way, in the respect that it makes fun of dad while immortalizing him as the same time. Here is a picture of the back cover to give you a hint of the humor.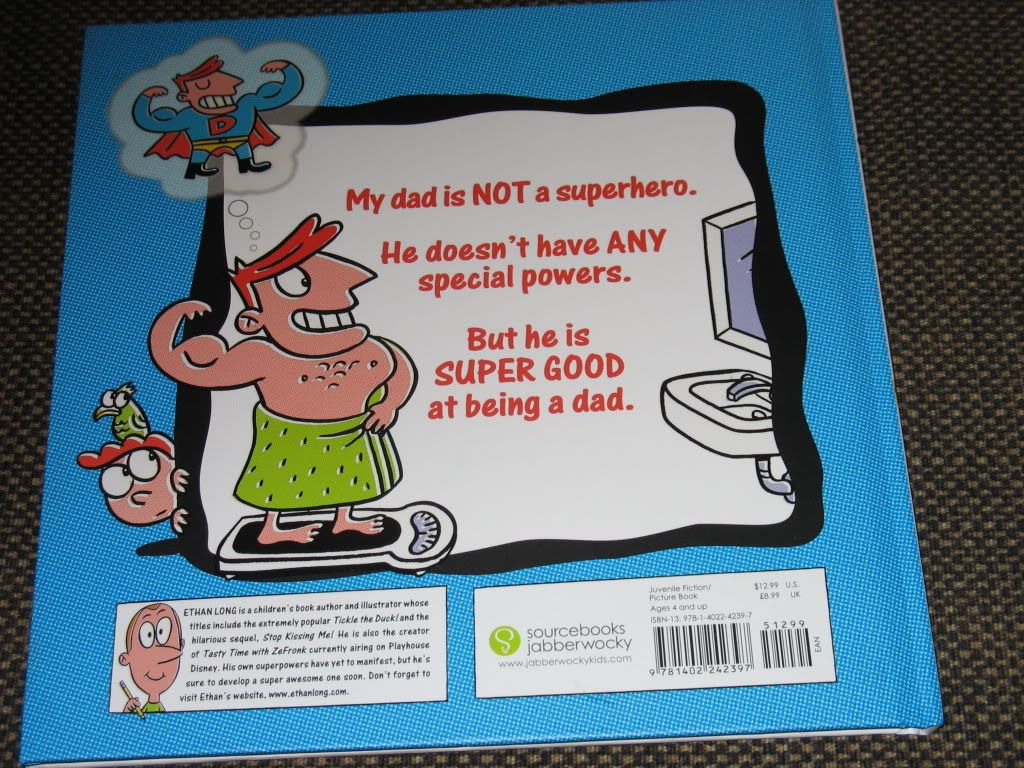 A couple parts of the book I really enjoyed, the first is when the boy says " He cannot leap tall buildings in a single bound." The picture shows dad tripping over blocks the boy was stacking up to make a building. And then he says "He does not have super strength." The picture shows dad trying to open a pickle jar, and can't get it. The next page shows mom opening the jar for dad. This is just a very humorous book for dad.
I would definitely recommend this book for reading to the kiddos! My kids loved it and found it to be very funny. There are a lot of cute little comparisons between expressions and pictures. The illustrations are very nicely done, with bright colors and speech bubbles through out the pages to add to the humor.
**Disclosure: I received a copy of My Dad, My Hero By: Ethan Long for review purposes from Sourcebooks. No other compensation was received.