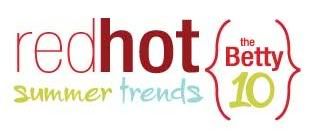 So, it's time to kick off summer with some awesome new recipes from
Betty Crocker
on the
Betty 10: Red Hot Summer Trends
. On top of that, they have teamed up with DIY guru Erica Domesek from
P.S.- I made this
for great spins on those recipes! You can get new ideas as well as watch some great videos.
You can check these out by clicking the Title, which takes you to the regular Betty Crocker Recipe page, or clicking the picture which takes you to Betty 10 Page!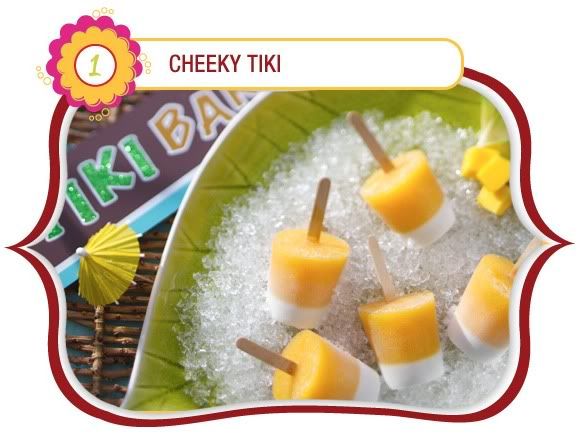 Mai Tai Tiki Pop
:
Cheeky Tiki- Fun, over-the-top Tiki trends are back in a big way, so take the flavors of a Tiki cocktail – the Mai Tai – and turn it into a fruity (and boozy) Mai Tai Tiki Pop
DIY Idea: Don't throw out those tropical drink umbrellas! Use them to craft a colorful Mai Tai brooch – a fashion must-have that's perfect for any summer fete!
Lemon-Ginger Icebox Cookie Cupcakes:
New Takes On Cupcakes- Dessert lovers everywhere are inventing new and interesting twists on the classic cupcake. These Lemon-Ginger Icebox Cookie Cupcakes are made with cookies, which when stacked between layers of whipped cream and then chilled, become cake-like.
DIY Idea: Create colorful, flower-like centerpieces and bouquets that last all summer simply by using cupcake liners and floral wire to create the illusion of petals.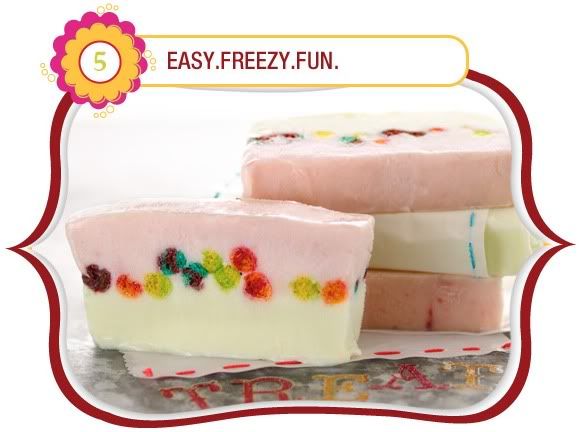 Fruity Fro-Yo Fun Bars:
Easy. Freezy. Fun. Make fun frozen yogurt treats yourself! Frozen ice cream novelties are the ultimate summer treat, and with only four ingredients and a few simple steps Fruity Fro-Yo Fun Bars are easy to make with the kids.
DIY Idea: Save your novelty sticks for a chic sunburst mirror that will brighten up any room. Use a round mirror as a base and glue sticks around the edges. For an ultra luxe look, spray paint the sticks gold.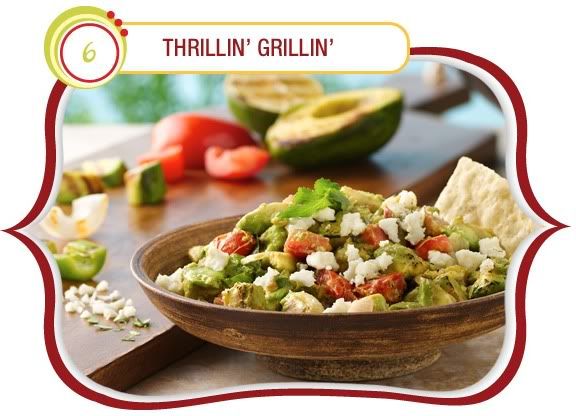 Grillside Guacamole:
Thrillin' Grillin'- Grillmasters everywhere are taking lessons from the "tableside" preparation trend, using the grill to bring excitement and flavor to unexpected dishes, like Grillside Guacamole.
DIY Idea: Get inspired by the iconic checker and diamond patterns created on a grill near you. Use fabric markers and a ruler to create a grill-like motif on plain pieces of cotton fabric, turning them into one-of-a-kind place mats.
Beer Snow Cones:
Kid Food Grows Up- The foods that we loved best as kids always inspire special memories. Adding a grown-up twist makes them even better than you remember. Try the Beer Snow Cones, made from granita-style beer "snow" and a drizzle of fruity simple syrup.
DIY Idea: Tap into your summer camp days when tie dye was all the rage by gathering your friends and family together for an outdoor party where a DIY day is all about DYE. Reach for rubber gloves, rubber bands, a clothes line with pins and a bevy of colors to create with.
To find more of the Betty 10: Red Hot Summer Trends, like Monster Veggie Burgers, Green Garden Fries, Sriracha Inspired Refrigerator Pickles, Greek Grilled Cheese Tacos, and Mini S'mores Hand pies, visit
www.bettycrocker.com/redhot
, and for great DIY ideas by Erica Domesek visit
www.bettycrocker.com/redhotDIY
.
*Disclosure: I was provided this information through Betty Crocker, as a member of My Blog Spark. I was not compensated in any way for my post and opinions are my own.