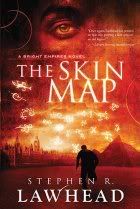 This book is a fast paced thriller/action/adventure/sci-fi/fantasy book all wrapped into one amazing story. Lawhead has taken an old tale and put his own spin on it. I thoroughly enjoyed reading this book. Lawhead was very detailed through out the book on every occasion for the time travels.
The book is based around Kit Livingstone, his great grandfather (Cosimo), and his girlfriend Wilhelmina. Kit's great grandfather runs into him in a strange alley in London. This puts Kit into a whole new world of relativity. Cosimo, Kit's great grandfather takes him on a journey through time and space. Kit is clearly unbelieving of the trip he and Cosimo had gone on through time, and tries to explain to his girlfriend Wilhelmina about his strange encounter, when she is unexpectedly whisked away to another time and place herself.
The subplot of Wilhelmina's journey is another great touch to the already interesting and suspenseful story. She is helped by a very generous business man, around the 1600's, on his way to start anew in a new city as a baker.
The entire story is thrilling and keeps you hooked from the slow starting life of Kit in London to the last words of the book. The main goal is to find the "Skin Map", which is all of the routes and ley lines, or roads between the worlds. Someone had this "Map" tattooed on themself, and after they died it was preserved. Everyone is after this map. This is an amazing page turner that just keeps coming with amazing facts and twists.
If you get lost in the story, as it does jump around a bit, just keep going, you will get to the end of the maze eventually! This is a good read for anyone. I definitely recommend it!
**Disclosure: I was provided a copy of The Skin Map By: Stephen Lawhead by
Booksneeze.com
for review purposes. I have given my honest opinion of this book. No other compensation was received.