I have tons of laundry, we have school clothes, work clothes, play clothes, pajamas, towels, plus hand towels and wash clothes as well as dish clothes. I am kind of picky about
laundry detergent
. There is so much laundry to do, and I don't like buying different kinds of laundry soaps. I like one detergents that does it all, whites, grease, stains, etc... I get to review new Purex products all the time your you guys. I love Purex. Purex is a great brand that works excellent and is affordable. I absolutely loved the 3 in 1 Sheets, Softener Crystals, and the Purex with Zout. I now have had the wonderful opportunity to test out the new Triple Action Laundry detergent.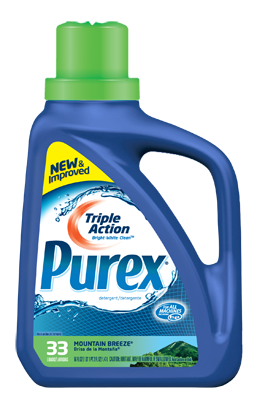 Purex Triple Action Liquid Detergent
is available in a few different scents as well as the Free & Clear. I received Mountain Breeze. It smells amazing! I have said before the ultimate test for laundry detergent is ravioli or spaghetti o's. This definitely does the job! I have so much trouble getting those sauces out of my kids clothes. Another stain I encountered while I was reviewing the product is the terrible Crystal Light stains. My kids don't get much sugar, so Crystal Light is a good drink to be yummy like juice. The main problem with it is, if they get it on their clothes, it DOES NOT come out. I had a red stain on Nevaeh's brand new light pink Christmas sweater to get out. The sweater looks like new again. Thanks Purex for all the amazing products and innovative formulas. We are definitely a Purex family!
This detergent is safe for all machines, including he!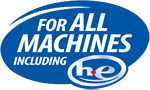 **Disclosure: Purex provided a free sample of their Triple Action laundry detergent so I could write a review. However, all of the opinions expressed are my own. No other compensation was received.