Well, here we are again, with another AMAZING Purex product. I had often wondered why someone had not come out with a pack for laundry like you purchase for dishwashers. When you have so many things to do, and not enough time, if your like me, you often try to come up with ways to make things much simpler. One way I had made laundry simpler was with the Purex Complete 3 in 1 Sheets. So I did think, one time a long time ago when I was using the dishwasher, why wouldn't we have a little pack like these ones for laundry, already pre-measured and ready to go!
Well, Purex has done it! They have made the perfect little packs of pre-measured laundry detergent. Perfect to throw in and go. I have said so many times through all the reviews and posts about laundry, we have SO MUCH of it. We have school clothes, good clothes, play clothes, work clothes, bath/hand towels, wash/dish cloths, plus the bedding from 3 rooms, and misc. blanket and such from the living room. Phew, lots of laundry. With the kids schedules - appointments, school activities, programs - anything to speed up my chores is WONDERFUL! I hate when the kiddos decide hey mom, its 2 seconds before we run out the door, let me spill that for you... well these little dose packs are amazing for these spur of the moment laundry mix ups. i never do single item loads either, so it works out great. I just grab some other items form the hamper next to the washer and throw in the pack and out the door we go! LOVE, LOVE, LOVE these little guys. I totally recommend them for all the time or just to have around when that spill or mess happens. Congrats Purex, you have another winner!
How to Use:
1) Dry your hands before handling the UltraPacks – (water dissolves the film).
2) Put the packs in the washer before adding clothing (the more time they spend in the water, the faster they dissolve).
3) If you have a front loader, make sure to put the pack directly into the drum, not in the drawer.
They will be available in Mountain Breeze and Free and Clear. As always they are suitable for all washing machines! Keep an eye out around February 2012 for these to be in stores!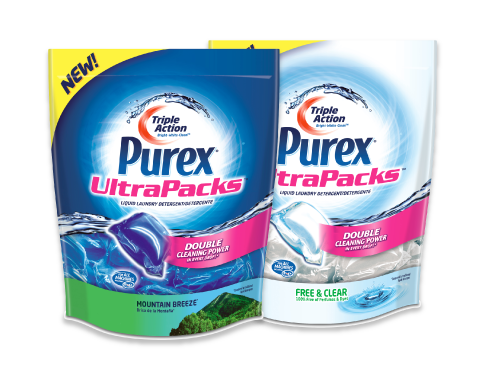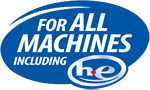 **Disclosure: Purex provided a free sample of their UltraPacks laundry detergent so I could write a review. However, all of the opinions expressed here are my own. No other compensation was received.