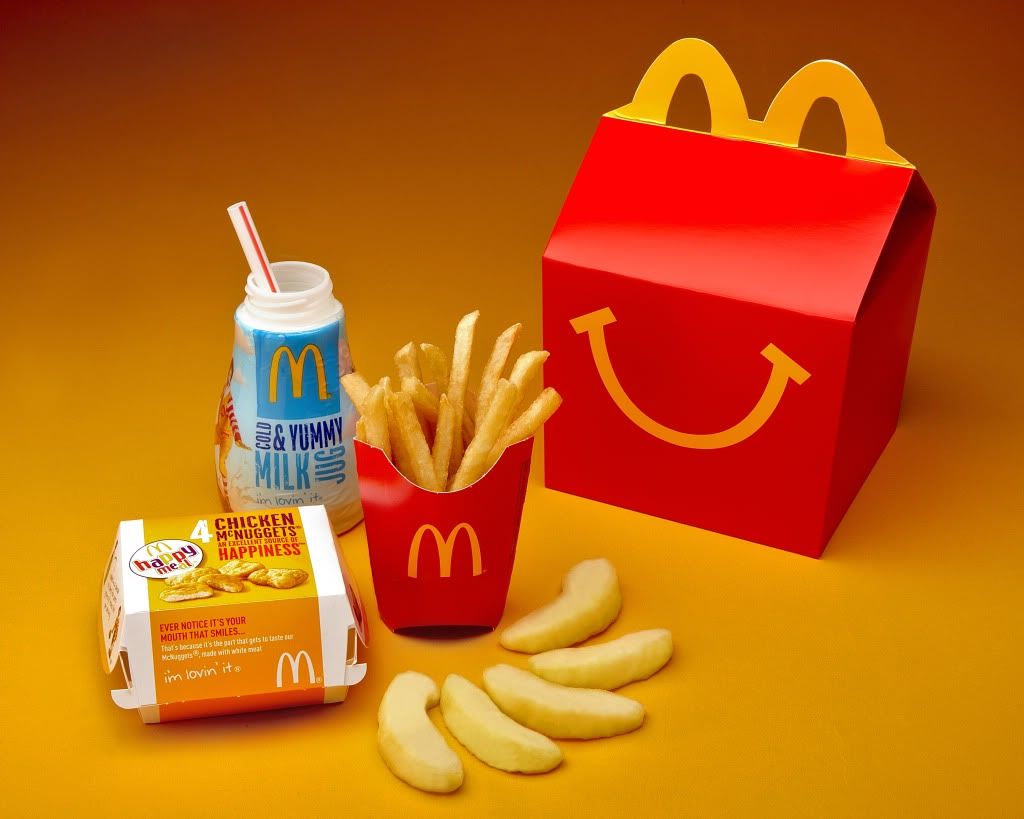 PITTSBURGH, PA (February 6, 2012) –McDonald's restaurants across the region have introduced a new Happy Meal in support of the company's Commitments to Offer Improved Nutrition Choice which strive to help customers – especially children and families –make nutrition-minded choices whether visiting McDonald's or elsewhere.
The new Happy Meal automatically includes Apple Slices (¼ cup or ½ serving) as a side to the choice of Chicken McNuggets®, a Hamburger or Cheeseburger, and choice of beverage, which includes the options of fat-free chocolate milk and 1% white milk. In addition to Apple Slices, the meal also includes a new smaller size French Fries (1.1 ounces). For customers who prefer apples only, an additional bag of Apple Slices is available in lieu of fries.
By adding fruit to every Happy Meal, McDonald's hopes to address a challenge children face in meeting the recommended daily consumption of produce. McDonald's has been offering apples as a requested Happy Meal choice since 2004, and while research found that 88 percent of McDonald's customers were aware of the option, the apples were chosen in only 11 percent of Happy Meal purchases.
"As a parent, I know that helping kids to make good nutrition choices may be a challenge," said Rick Rehak, McDonald's Regional Marketing Director. "With the new Happy Meal, we're helping parents encourage their children to enjoy the foods that are good for them along with the foods they love by automatically including both apples and fries as part of a balanced, kid-appropriate meal. We're excited this new offering will introduce about 100 million cups of produce annually into the diets of our youngest customers."
For example, a new Happy Meal with 4-piece Chicken McNuggets, Apple Slices, new smaller size French fries and 1% low fat white milk or fat-free chocolate milk will deliver produce and dairy – two food groups encouraged by the USDA Dietary Guidelines for Americans, 2010 and MyPlate – as well as at least 10 percent of the Daily Value for vitamins A and C, calcium and vitamin D. In addition, the sodium in Chicken McNuggets has been reduced by more than 20 percent since 2003. In fact, as part of its national sodium reduction efforts, McDonald's recently reduced sodium by 10 percent in the most of its chicken menu items.
"Research shows that younger children are consuming more fruits and vegetables, but we still have a long way to go to increase consumption to meet daily recommendations for these important food groups," said Elizabeth Pivonka, PhD, RD, president and CEO of the Produce for Better Health Foundation. "We applaud McDonald's effort to celebrate produce in every Happy Meal which further strengthens their seven years of support of our campaign to educate children about the benefits of fruits and vegetables."
**Disclosure: This information was provided by the Pittsburgh Kid's Guide and McDonald's. No compensation was received for this post.