Hey everyone! I am excited to announce that I am a Saline Ambassador! I have a bunch of samples left over from my party and would love to give some out to you all! I have set up a form for you to put your information in, and I am the only person with access to the form, so no worries. All I ask is that you would fill out the online survey with the code I provide you, as it only takes a second. You can order either Boogie Wipes or Saline Soothers or BOTH! I myself am sending the samples, not the company. That is why it is important for the survey. When you fill out the survey online at the address provided for the Boogie Wipes and/or Saline Soothers, you are entered to win the quarterly prize pack from them! Please fill out the form
HERE
, or if you are uncomfortable with that method, please feel free to email me at ZCSCOOBY@MSN.COM with BOOGIE WIPES or SALINE SOOTHERS as the subject.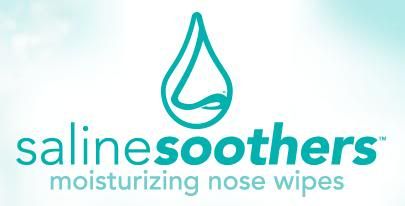 I will include the Boogs Coloring sheet, coupons for you if you decide to purchase the products, as well as a good amount of samples for each brand (if specified both you will receive ample amounts of both). In side the envelope will be a card with the Saline ambassador logo on it and my information. At the bottom of the card will be the appropriate URL for each survey (Boogie Wipes & Saline Soothers, if you elect to receive both, please fill out both surveys, they are short!)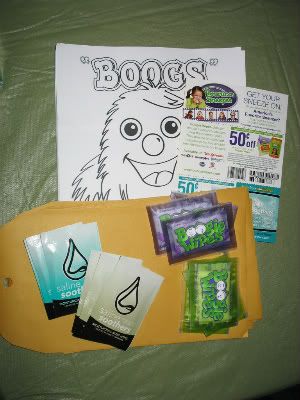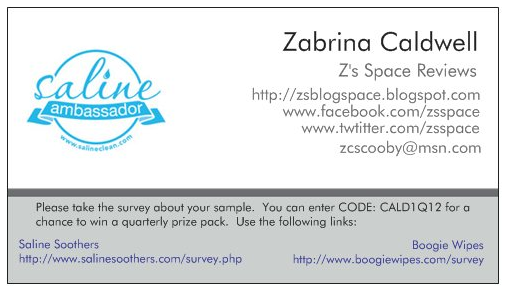 Thank you all so much for following Z's Space and for all the wonderful comments about the products I have brought to you. I will say I absolutely love both of these products, as so do my children. They are amazing for the cold or allergy season. I always hated seeing my poor babies' noses all torn up from tissues and the dreaded runny nose. These wipes eliminate that with the gentleness of Saline!
**Disclosure: I received samples of Boogie Wipes and Saline Soothers for sampling and review purposes. No compensation was received. All opinions are my own.