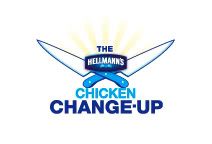 MAKE CHICKEN JUICY WITH
THE HELLMANN'S®
CHICKEN CHANGE-UP
Who says you have to make the same old chicken? The Hellmann's® Chicken Change-Up gives you easy recipes that turn every-night chicken into outrageously juicy mealtime favorites. Visit our Wall to get recipes and share tips, photos and videos on how you change up your family's dinner experience.
The promotion encourages at-home chefs to try out chicken recipes made with Hellmann's®, transforming chicken dishes into juicy, crispy, more delicious meals that your family will love. Every two weeks, the "Chicken Change Up" will provide recipe-based solutions to every day dinnertime challenges, like:
**Cooking dinner on a time crunch
**Making budget friendly meals
**Satisfying picky eaters at the dinner table
**Putting a twist on a classic dish
Housed on
Facebook.com/Hellmanns
, the Hellmann's® "Chicken Change-Up" aims to help parents manage dinner dilemmas in kitchens across America – and they want to hear what it's like at your house!
The
Hellmann's® Facebook page
features videos from Celebrity Chef Tim Love providing his take on tackling these challenges in his own home. Visit the Hellmann's® page on Facebook and enter for a chance to win a $5000 grocery store gift card or other daily prizes!
**Disclosure: I received an entry into a drawing from One2One Network for this post. No compensation was received. All opinions are my own.