I was happy to try out this software, considering, I have a blog and adding a watermark to my images couldn't be bad right? I am not all that great with images and editing them. I can copy, cut, and paste, that is about it. I do use Photobucket a lot, since it is pretty easy. I really like the PearlMountain Software. It is super easy to operate and there are so many options to choose from. I thought it was nice to be able to make profiles for the different types of images on my site. There are a ton of preset profiles, if you are starting fresh. You can choose the size of the image, type and position of the watermark, as well as the addition of a website address and so many other things too. When I started the blog, I had not a CLUE! I have slowly learned over all this time about different things.
PearlMountain Photo Watermark protects your photo's copyright by adding image watermark, text watermark, logo to digital photos in batch mode. It is a fast and easy-to-use program, with a few clicks hundreds of pictures will be protected from unauthorized use. Some of the highlighted features include:
1. You are allowed to add image watermark, text watermark, tile watermark for image copyright protection.
2. Provide plenty of preset watermark templates, save your time.
3. Adjust image brightness, contrast and saturation in batch to make your images look more special.
4. Convert between many different image file formats and resize image for any different use, such as for Web, e-mail, photo printing, Facebook, etc.
5. Save operations that you usually use as profiles and bring convenience with you in the future.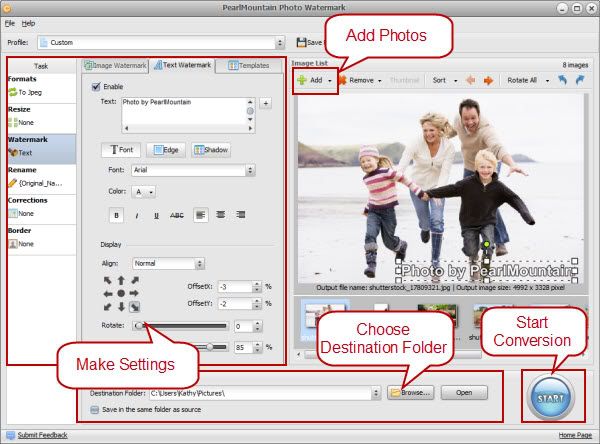 You can visit PearlMountain
HERE
for even more details!

The great people at PearlMountian would like to give 20 readers a copy of this software. You will be sent a license code and an address to download the program from. Use the Rafflecopter Widget below to enter!
a Rafflecopter giveaway
**Disclosure: I received PearlMountain Photo Watermark software for review purposes. No other compensation was received. All opinions are my own.