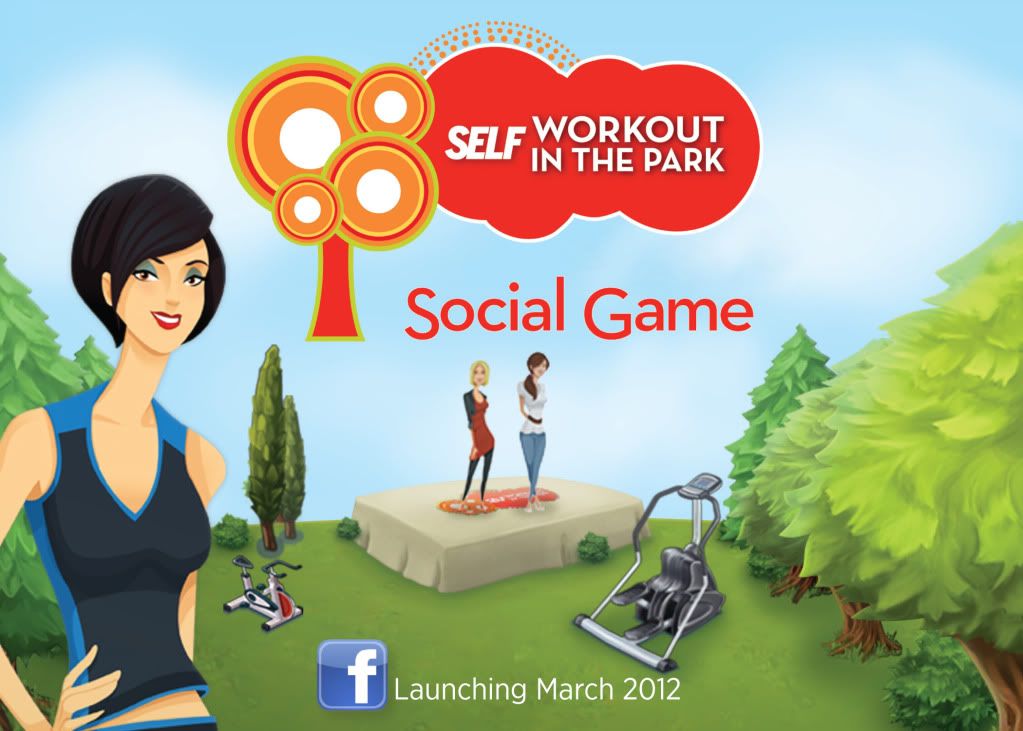 SELF MAGAZINE LAUNCHES FACEBOOK SOCIAL GAME
SELF WORKOUT IN THE PARK
The Leading Women's Active Lifestyle Brand, SELF, Creates First-Ever Facebook Game
From a Magazine Brand
NEW YORK, NY, March 7, 2012 – Condé Nast's SELF, the leading women's active lifestyle brand, enters the social gaming scene with the debut of SELF Workout in the Park, announced Laura McEwen, vice president and publisher of SELF. Marking the first social game launched by a magazine brand, SELF Workout in the Park is inspired by SELF's hugely successful live-event franchise of the same name, now in its 19th year. The game will premiere on Facebook on March 19, 2012, with more information available at the game's official site, SelfWorkoutinthePark.com.
Providing an immersive, interactive experience that celebrates fitness, health and wellness, SELF Workout in the Park is unique in combining virtual gameplay with real-world pursuits in a highly compelling and rewarding way.
The game provides an expansive experience where players create and customize their own outdoor fitness park, personalize avatars in their likeness, enjoy health and relaxation activities, work out on fitness equipment and participate in exercise and health-themed missions and challenges that impact the look and fitness level of their avatar, while inviting Facebook friends to join the fun. SELF Workout in the Park also delivers real-world benefits to users, including merchandise offers from sponsors in beauty, fashion, fitness and wellness, as well as logging and tracking real-life fitness goals and progress via the game's companion mobile app, launching on April 7, which will impact players' in-game avatars.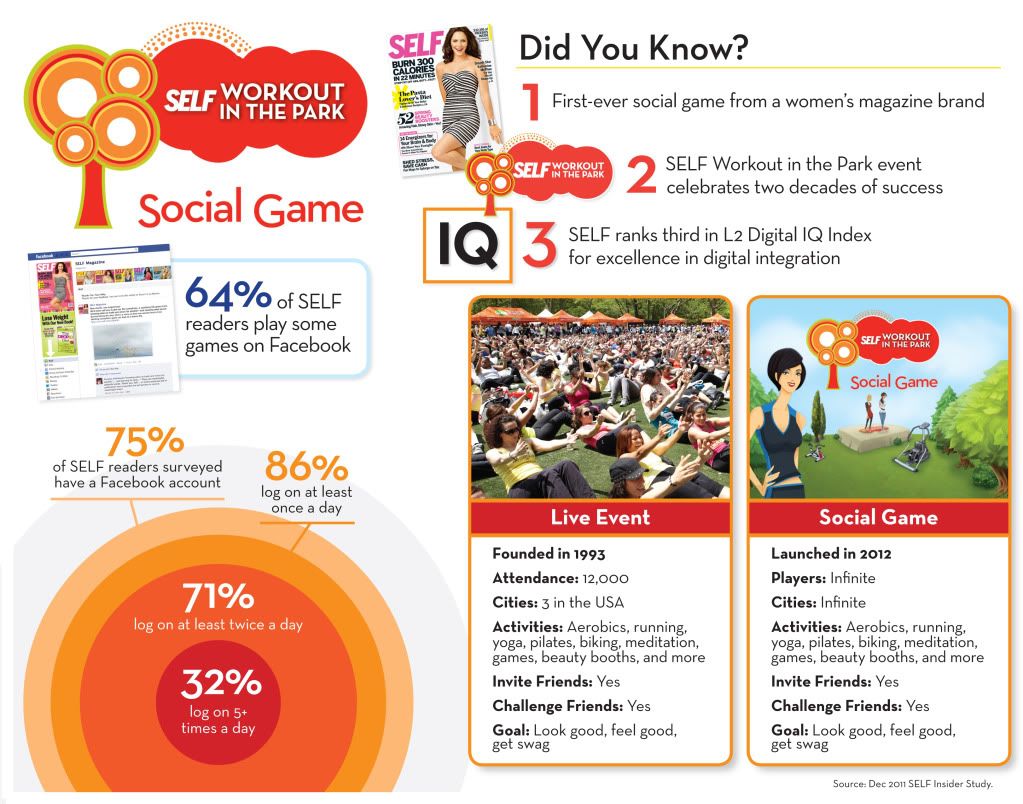 "This game puts SELF on the leading edge of one of the most vibrant consumer experiences just as the market for high-quality branded games, goods and virtual services is exploding," says McEwen. "SELF Workout in the Park will have a profound effect on our brand footprint as the number of female gamers has grown exponentially, now representing 55% of the 98 million social gamers in the U.S. SELF is at the right place at the right time—the game is fun, funny, engaging and captures women's passionate interests in fitness, health and wellness."
Conceptualized and produced by Laura McEwen with an in-house SELF team, including executive producer Elizabeth Chan, SELF has also aligned with best-in-class partners SMERC, Live Gamer and Kontagent to develop a robust social gaming experience. SMERC is an award-winning mobile and social game design studio and industry leader in creating vibrant, provocative experiences for users. Live Gamer and Kontagent offer considerable experience in the e-commerce, advertising and analytics fields.
The game captures a woman's interest in improving herself, which underscores the primary mission of the SELF brand. The in-game features include:
· Creation and customization of your own park
· Personalized avatars that reflect individual body type and tone/chisel up or down based on gameplay
· Fitness challenges for your avatar
· Hip workout gear for your avatar
· Mini-Games and puzzles
· Ongoing updates tied to real-life events
· Mission elements with puzzle games to level up
· Virtual goods to customize your park and avatar
· Connectivity with mobile phones and Facebook to continue play on-the-go
Sponsorship opportunities for advertisers will be incorporated throughout all aspects of the game. These sponsorships will deliver seamless integration with in-game play allowing brands to reach the powerful female demographic in a highly-engaging and interactive manner. Sponsorships will include:
Custom branding within key elements of gameplay
Branded onsite presence within the virtual park
Branded virtual goods within the game for categories including athletic apparel, beauty and grooming, lifestyle fashion and accessories, and food and beverage
Video and static ad integration
For more information go to
www.SelfWorkoutinthePark.com
.
About SELF:
SELF informs and inspires women about fitness and beauty, diet and health, style and happiness. The SELF brand provides the content and tools to inspire a woman to take charge, to choreograph her life and to become her best self. SELF provides the content and tools that enable women to take charge and curate their lives. Visit Self.com and follow SELF Magazine on Facebook and Twitter @SELFmagazine.
About Condé Nast Publications:
Condé Nast is home to some of the world's most celebrated media brands. In the United States, Condé Nast publishes 18 consumer magazines, four business-to-business publications, 27 websites and more than 50 apps for mobile and tablet devices, all of which define excellence in their categories. The company also owns Fairchild Fashion Media (FFM), whose portfolio of brands serves as the leading source of news and analysis for the global fashion community. Condé Nast has won more National Magazine Awards over the past 10 years than all of its competitors combined. Visit CondeNast.com and follow us on Twitter @CondeNastCorp.
**Disclosure: This post is for information purposes only. No compensation was received. All opinions are my own.