I have never been a skinny girl. I mean even when I weighed 130 lbs. I still wore a 10 in jeans, my behind is not small put it that way. I am at a point now where I am wearing a 18-22 depending on the style, brand, and type of clothing I am trying to find. I found FashionToFigure.com and I am IN LOVE <3! I am always looking through the stores and wondering why just because I wear a larger size, 1. I have to pay a ton more for clothing? 2. The clothing in my size is rather out dated and not in style. and 3. This size clothing is not easy to find especially if you are trying to stay within #1 & #2! I was super excited to hear that FashionToFigure.com was going to give me the opportunity to review their site and a product. I was in love with all the options on the site, however I chose
Twill Cotton Shorts in Khaki color
. These are just right for me! They were perfect in length for shorts in my opinion, since I do not believe I belong in short shorts. They were also very light and cool for the warm humid weather we are having right now, and through out the rest of the summer.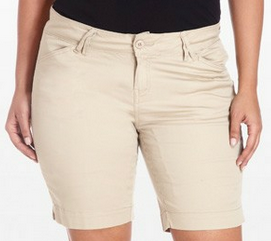 I will definitely be ordering from
FashionToFigure.com
in the future. Here are some other examples of their items, and they are always adding new products. I love their items and the accessories also. You can always find something for any occasion with all the extras!
**Disclosure: I received Twill Cotton Shorts in Khaki color from FashionToFigure.com for review purposes. No other compensation was received. All opinions are my own.