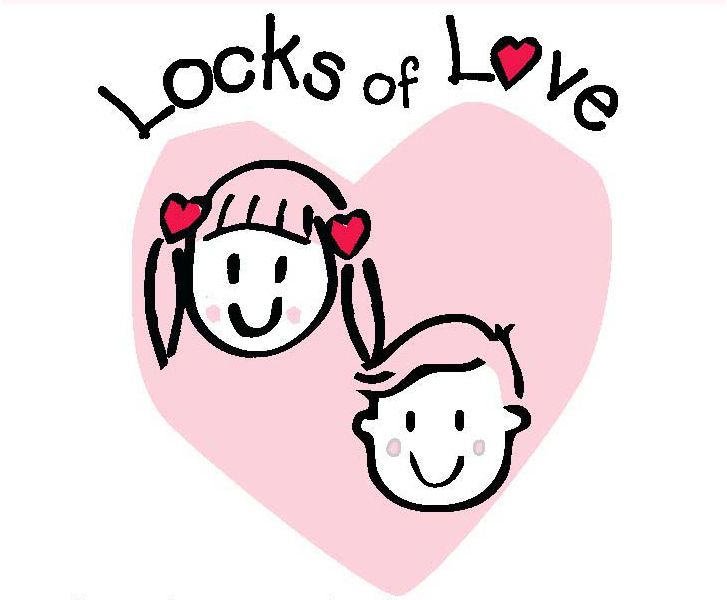 Since I graduated high school, I have donated my hair to
Locks of Love
every year. My hair grows super fast and it is thick. In the summer when it is to the top of my waist I have had enough! I have made it a point to donate it every year, there may have been a time I waited 2 years, but usually I can not stand it in the summer. I am not really a hair styler anyways. I mean I have all the tools, curling iron, straightener, blow dryer, a million brushes for times I do need to do something with it, but usually it is just in a ponytail folded in half.
For my senior prom I went to a local place to get my hair done, and there happened to be a flyer on the wall in front of my chair for Locks of Love. I had let my hair grow for 2 years for my senior prom, since believe it or not, I was bald, I used to shave my head on purpose, I was the biggest tom boy ever. I played baseball, wore my hat collection (which I still have over 50 hats I proudly display through out the year!), went four wheeling, hunting and fishing with the guys and just never had time for that girly stuff! I decided since I was able to have hair, and didn't want it, from that point on I would donate it. Two days after prom I returned and donated 23" of hair to
Locks of Love
.
And so I have been donating it every year with the success of meeting the requirements every year for length. At least 10 inches! I am sure there is some child out there with alopecia or cancer that is happy to have my unwanted hair. I already donated this year, back in April. A little earlier than I usually do but our weather has been terrible here in PA it was 90 degrees the day I donated, and usually we still have snow in April...
To get to the point, I have been donating for so long, and today, I received a nice post card from them see below. It made me feel extra special!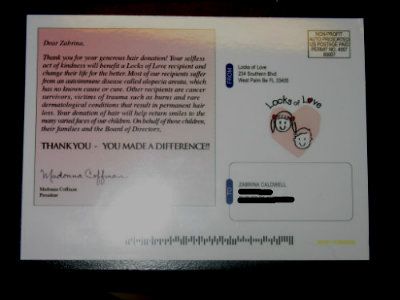 There are other ways to help out also, since donating hair is only one part, they still need funding to make the actual prostheses. Below I have added the buttons to purchase jewelry or bears to support the Locks of Love Organization.
**Disclosure: This post is for informational purposes only. No compensation was received for this post. All opinions are my own.