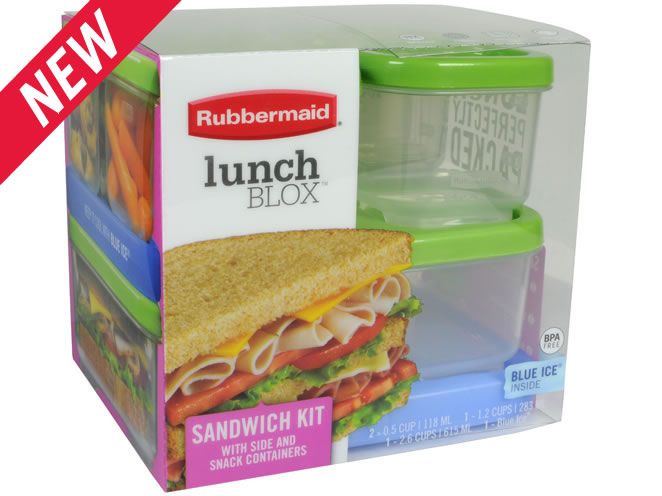 Introducing the Rubbermaid LunchBlox Sandwich Kit that saves space and stays organized in any lunch bag! The features of this product include:
*Modular containers snap together in to save space in your lunch bag
*Kit includes specially designed Blue Ice™ pack that works with LunchBlox containers to keep
lunches chilled on the go
*Containers are perfectly portioned for lunch foods commonly carried away from home
*Microwave-, dishwasher- and freezer-safe and BPA-free
*The Sandwich Kit includes a sandwich container sized for regular and specialty breads, two snack containers (perfect for yogurt or nuts) and a snack container (perfect for fruits, vegetables and chips)
I am in LOVE with this product! I enter into a lot of activities with my kids, as well as hunting and fighting, and these kits are amazing! I have always struggled to find a way to keep containers compact while also fitting that bulky blue ice in with my food, since ice will just melt and makes your food soggy. These containers are just totally innovative, and I so wish they were available years ago! I think they are especially nice for this kids since they are portion controlled, and you can give a variety of healthy foods with this set of containers.
The containers themselves are made of a very sturdy plastic, and the lids snap on tight - which is something I look for to avoid spills in the lunch bag or cooler. The blue ice snaps on to the containers fitting perfectly into the coordinating lunch box or even my fiancee's cooler, he has a ton more room in there for his water with less of those bulky blue ice packs. The best feature about the interlocking snap system is that the ice pack is between the containers at all times, there fore you do not have to rearrange and repack items a millions times to make them fit, and since the containers are snapped together, you know the food inside will stay cold as the ice pack is perfectly positioned for this reason!
Another great feature is that you can add more containers on besides what comes in the individual kits. Such as, my fiancee is a general contractor, so he doesn't have many options for lunch a lot of times. I can pack him a (2) sandwiches (as I have purchased a second kit!), apple sauce, fruit, chips (without smashing them!), as well as some sides, macaroni salad, tuna salad and crackers, etc... The possibilities are endless. You can add or remove containers to suit your needs. I love the portions, because I know my kids, fiancee, and myself are staying within serving sizes as well as getting different nutrition and healthy choices with this system. Absolutely RECOMMEND this product to anyone who has a need to take a lunch or snack with them!
Check out the video below to see some other ideas on storing food in the containers and other options for kits, such as Entree, Salad, and the Sandwich kit!
Click here
to see the full line of LunchBlox products including the Salad and Entrée kit, great for taking salads and leftovers on the go!
BUY IT!
The LunchBlox Sandwich Kit is currently available for purchase at Rubbermaid.com, Target, Kmart, Kroger, Safeway, Bi-Lo, Winn-Dixie, HEB, other grocery stores and select Wal-Mart stores. The value of the LunchBlox Sandwich Kit as $12.99. This is the suggested retail price. However, prices at retail may vary and are controlled by the retailer.
**Disclosure: I received a Rubbermaid LunchBlox Sandwich kit for review purposes. No other compensation was received for this post. All opinions are my own.