My family and I attended the show last night, and we had an absolute blast. My kids were able to attend last year, but this year was special, as our little foster girl has never really been to anything like this before. We had so much fun.
Grave Digger took the 1rst Place Plaque for the Wheelie contest, and you know what was the most awesome about it? Gary Porter, the driver, autographed his award and gave it to an unsuspecting spectator! The AAP Grinder won 1rst Place in the Race portion, and he also took his award to an unsuspecting fan. The Eradicator had some trouble starting out in the wheelie competition and was out for the remainder of the evening due to a mechanical problem, but is hoping to be back to is for tonight's show! It was really awesome that when the track needed fixed or when cautions were going on the AAP team were out there with the T-Shirt Cannon throwing out some nice shirts into the crowd!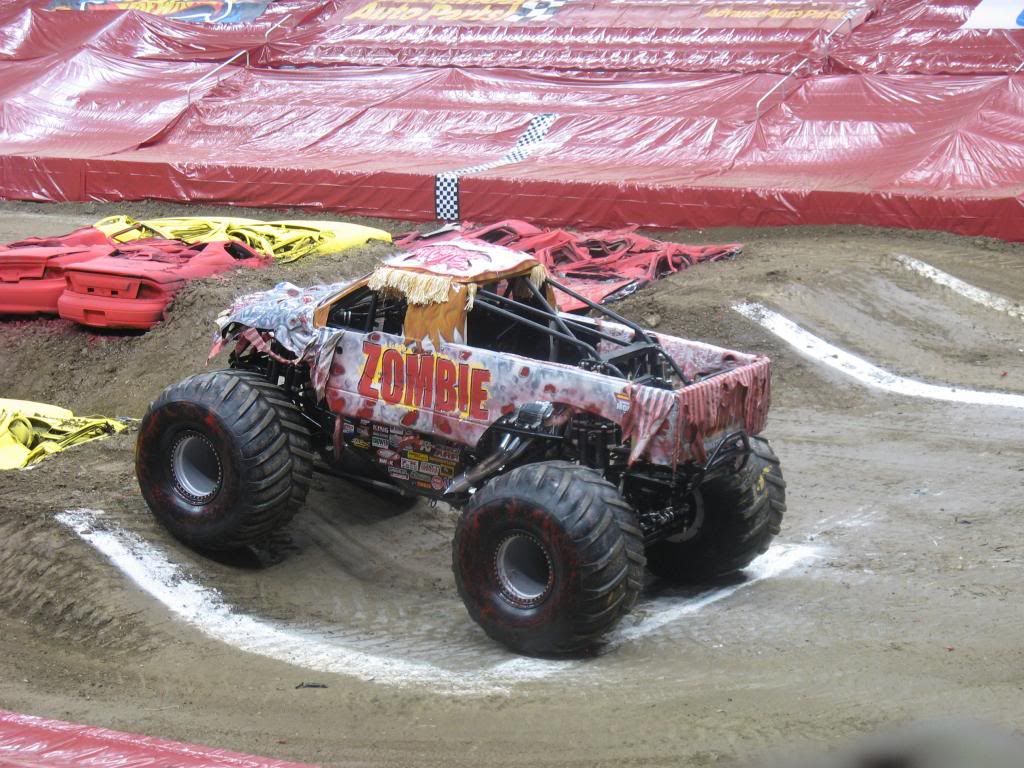 My favorite was the Zombie Truck, it had a great design, was intriguing, and the driver, Sean Duhon, had some amazing tricks for the Freestyle show, even though Grave Digger also took that award, and you guessed it, he gave the award to another spectator. This one was super exciting since he ran right into our section, my little girl, Nevaeh, was screaming her head off, ME ME ME GIMMEEEEE lol. An overjoyed young boy was the recipient.
I am pretty sure, my kids loved the Megasaurus portion the best. This huge box truck like vehicle came out, with Caterpillar tracks like on a tank, and all the sudden this robotic dinosaur was unfolding out of the box. It was HUGE. He spit fire out of his mouth, and they fed this Megasaurus, a nice junk car! It demolished it! Just as it had come out, it folded itself back into the box and went off the track, of course this took a good 10-15 minutes it seemed like (don't quote me on the time), but the kids were amazed. You can check out my slidshow below to see all the pictures we were able to take. It was fairly dark, so a lot of them were not the greatest.
This was so much fun and a great family night out. We have made it our tradition to being home a souvenir from each event, so this time we got a small Grave Digger cup, the large ones were a lot like the ones from last year, so the kids waned something different. Of course there were tons of Shirts, Hot Wheels Cars, Blankets, Plush Trucks, and of course Cotton Candy with truck shaped hats (Grave Digger & I saw Monster Mutt at a couple stands).
I will be bringing you more deals from the
US Family Guide as a Moms Connect Member
, keep following and follow
Pittsburgh Kids Guide on Facebook
just in case I miss something awesome! There is also a widget on the Left Side Bar for you to see if there are any deals as the current time.
**Disclosure: I received tickets to the above mentioned event as a US Family Guide Moms Connect member and Pittsburgh Kids Guide Blogger. No other compensation was received. All opinions are my own.