I decided to write my first review on a great product I won in a giveaway from another Product Review and Giveaway Blog...
Trying to Stay Calm
. I was so delighted to learn that I had been chosen as the winner of a Spin & Go 360 Mop, as seen on TV.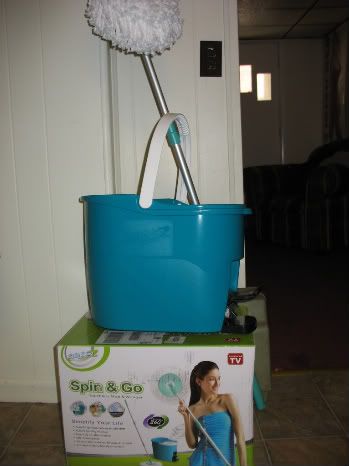 This is the actual mop I received!
I was kind of skeptical because I had read mixed reviews of this product. However, I received the mop, assembled it very easily, and used it within about 10 mins of opening the box! I was surprised at how sturdy the handle was, because of other reviews that I had read. The mop head it self snapped in so easily, and the handle went right together.

**This is a photograph from the Spin & Go website.**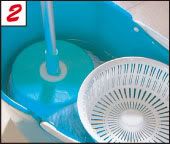 **This is a photograph from the Spin & Go website.**


**This is a photograph from the Spin & Go website.**
The bucket is an awesome feature of this mop. It features a spinner that you place the mop head in and you push a peddle at the base of the bucket to spin the mop head out, as apposed to ringing it out. I did notice that is left the mop with just enough water/soap to clean the floor, and the mop head itself is made of a really different type of microfiber material which cleaned to wonderfully! I have ceramic tile in my kitchen and was having to get out the scrub brush and tile/grout cleaner to scrub those pesky little stains that appear there from spills or crumbs. With the new mop I noticed the strands of the mop head actually cleaned the stains out with out me scrubbing and scrubbing! My floor also dried at least 50% faster from the lesser amount of water used on the floor which is great because my children are always slipping on the ceramic tile in the kitchen which is very slippery when wet, I have even fallen on the wet floor.
I definitely recommend this product and love it so much. I am glad to have had the opportunity to win this great item and use make life a little easier on myself, since out entire downstairs is linoleum or tile! It is so simple and quick, plus my kids love to help out with the spinning of the mop head of course! I believe the last price I spotted on it was $49.95 and the extra mop heads are $9.95 at
Spin & Go 360 Mop
Disclaimer: I was not provided with any samples, compensation, or other material for this review. I solely wrote this review of my own opinion about a product I won in another giveaway from Trying to Stay Calm!