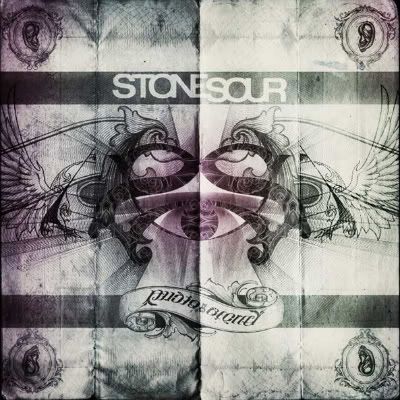 **Actual album artwork.
I am definitely a Stone Sour, Slipknot, and Corey Taylor fan, and have been for about 10 years. However, I previewed this album at a FYE store and was surprised at what I had heard. This album is something so different from all of the work of Corey Taylor and either of his bands I was not so sure I would enjoy it. I was surprised when I opened it and started listening to the music/lyrics and how different they were compared to previous works that I have enjoyed for years!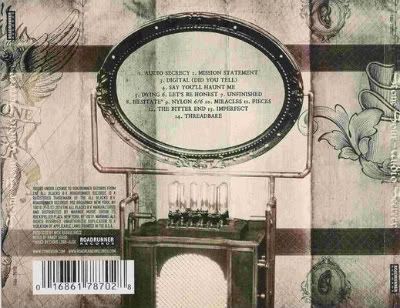 **Actual album artwork.
The Audio Secrecy (ROADRUNNER Records) album includes the hit song "Say You'll Haunt Me". This song also shocked me when I heard it for the first time, because it is a love song, not really something I expected from Stone Sour. They are more about the music industry and just raw emotions, not really love songs per-say. However, I was captivated by the change in tone and the ability and talent of this band to change their style so much for this album.

I absolutely love every single track on this album.
1. Audio Secrecy (Instrumental)
2. Mission Statement
3. Digital (Did I tell You)
4. Say You'll Haunt Me
5. Dying
6. Let's Be Honest
7. Unfinished
8. Hesitate
9. Nylon 6/6
10. Miracles
11. Pieces
12. The Bitter End
13. Imperfect
14. Threadbare

I do have to say that despite being a Metal Head/alternative junkie myself, I was encompassed by the ability of this band to slow down and express their emotions and their softer side. My fiancée Ken, and I are both huge fans, and he is not as keen as I am about this album. I, as well as probably 50-100 million other fans, was very surprised at the way this album slowed down from the metal/alternative ways of Corey Taylor to show that even Metal Heads have feelings too. Ken on the other hand, not happy with it. I am a true die hard Metal Head and I thought to myself, you know I am a normal person and have feelings too...why shouldn't this band with mega-talent let out another speed and tempo of music, just to show their true talent. I love this album and how it totally removes all the stereotypes from this band. I do not believe they have gone soft, but are just showing off their true talents from so many prospectives. I had to remind Ken about Snuff, from Slipknot's album All Hope Is Gone, considering it is a very slow, emotionally written song, but it is loved by all of us Metal Heads. I do believe this album is a continuation of that same emotional expression.
I would recommend this album to anyone, including the Metal Heads out there, such as myself, to remind us all that we need to slow life down a bit and let it all out. I really am taken by the lyrics as well as the music on this album. My favorite song would be Hesitate, it just makes me think of all the things in my life and the relationships I have had in the past. All of the lyrics are included in the album booklet. I also liked how they dedicated this album to Paul Gray, the bassist/songwriter for Slipknot, who met his demise with an untimely death by a drug overdose May 24, 2010 at age 38.
At any rate, this album is an amazing show of talent, vocally, musically, and lyrically.
**Disclaimer: I purchased this album myself for my own listening pleasure. I decided to review it myself, with my own opinions which I have expressed within this review. No compensation was received for this review.


**Actual album artwork.

Stone Sour:
Corey Taylor - Vocals
James Root - Guitar
Josh Rand - Guitar
Shawn Economaki - Bass
Roy Mayorga - Drums