**Actual Photo of Box.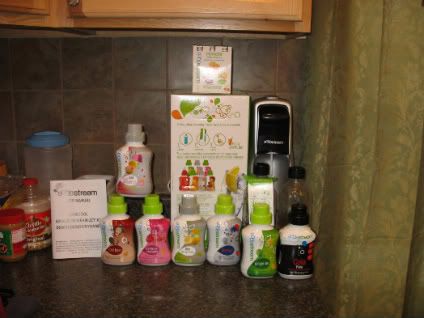 **Actual Photo of all items I received!



**Actual Photo of the Soda Flavors I received!



**Actual Photo of Sparkling Water Flavors I received!

I must say I was so delighted to receive the
Sodastream Machine"
to give my opinions about. I received the machine, Co2 canister, 2-1 liter Bottles (that you reuse) 7 Soda flavors including,: Ginger Ale, Root Beer, Cola Free, Diet Lemon Lime, Energy, Diet Pink Grapefruit, Cranberry Raspberry, and the 3 pack of Sparkling Water flavors including: Berry, Orange, and Lemon Lime. I am a die hard soda drinker. My fiancée jokes with me all the time that I should be the highest share holder of Pepsi Co. for all the Diet Mountain Dew I drink. I have also won a Diet Dew Fan Sweepstakes! Yeah I love my soda. I also love Coke Zero. Since I drink so much soda I do drink diet, which means lots of aspartame...not so good. I was so pleased that one of the flavors I received was Cola Free (I interpreted it as Coke Zero), which tastes excellent!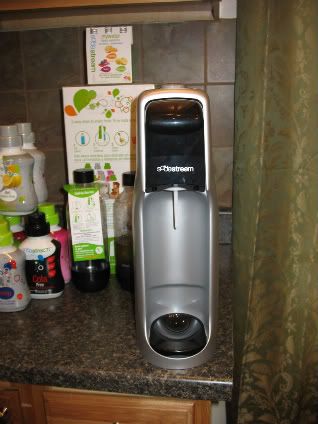 **Actual Photo of machine.
This machine was so easy to set up and use. It only took about 10 minutes to read the instructions fully and properly and to follow the steps. I did take my time since there was a Co2 canister involved and the kids were hovered around like kids getting birthday cake at a party. It is so easy to use this machine. I was surprised when I opened it and there was no plug or anything, when I thought Fountain Jet I thought syrup needed hooked up and it needed electricity, this is not so. The hardest part of setting this machine up is making sure the 1 liter bottle is tightly secured to put the Co2 in the water. So simple, and wonderful because the kids love it and when they want something they want it now. My son has ADHD, ODD, OCD, and Adjustment Disorder. So he is a tough kid, my daughter just has the learned behavior from him, so I am glad the process in making the soda is EASY and FAST!

**Actual Photo of machine.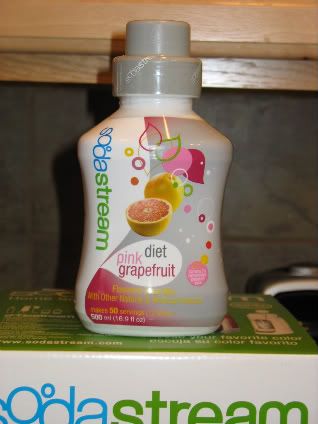 **Actual Photo of Soda flavor, one bottle makes 12 liters!!

The kids absolutely loved the Sparkling Water flavors! We purchase mass quantities of the Clear American Water from Walmart. With all of Zach's (my son) quirks he does not need any caffine or sugar, which he thinks it is pop, if he thinks it s then so be it. With this I really have no problem letting him have some soda, it has no aspartame in it tastes great. I let him have a bottle of the Ginger Ale and you would have thought he received gold!
I am so impressed with this system I would recommend it to any soda drinker, the flavors are great, they are healthier with no aspartame, and the water flavors are great for the kids! I am also impressed with the "green" approach. Reusing the 1 liter bottles is an amazing idea. I throw away so many plastic bottles a from my soda and the kids' water. I fell a little better knowing I am helping the environment, even if it is just a little. These bottles are made of a sturdy plastic and have a rubber washer in the top to make sure the drinks do not go flat. They are a great idea, congrats
Sodastream
you have an absolutely amazing product all the way around! Thank you for the opportunity to review this great product.
**Disclaimer: I received a
Sodastream
free to review. I have given my honest opinion about this product. No other compensation was received.