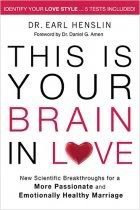 I must say getting ready for my upcoming wedding has me kind of flustered. That is why I chose this book when it was offered. I am just trying to proactively act on marital problems before marriage I guess. I am really happy that I read this book! I was really surprised at all the information in it about the actual neuroscience behind feelings and emotions.
Dr. Henslin has done a magnificent job connecting neuroscience with Love. Of course he mentions numerous times through out the book that Dr. Amen, of the Amen Clinic, has a great deal to do with his findings and success in marriage therapy. The book pin points what type of lover you are, and what to do to make you more compatible with the type of lover your mate is. I found this to be great, since I have suffered from severe depression since I was a child. The information I learned in there could have helped me so much in the past with my relationships, not that I would rather be there then where I am now, just would have cut down on a lot of hurt.
It is hard to explain the science in the book without actually rewriting the book for you. I recommend that anyone looking for something to help out with relationships read this book! I actually sat down with my fiancée and spoke to him about some of the problems I see in our relationship, yeah, I can admit we have problems, but everyone does, there is no perfect relationship. I would rather help mend the things broken then separate us more by leaving each thing unattended. I am not saying I am not a person of faith, but do not follow religion as closely as I should, Dr. Henslin puts a lot of spirituality in the book, not just Christianity, but he also talks about the Jewish practices, which I found fascinating. Just the amount of emotion and everything put into a relationship in that religion was amazing to me, and with my depression, I could actually use some of those traditions, as well as my fiancée to make things a little better in our relationship.
Again, I will recommend this book to anyone, needing any kind of assistance in a relationship. This is a wonderful book full of great information, both psychological and scientific. The things you find out kind of turn on that light bulb in your brain saying "A-HA! Now I got it!"
**Disclaimer: I received a copy of This Is Your Brain In Love by: Dr. Earl Henslin free for review from
Booksneeze.com
. I have given my honest opinion of this book. No other compensation was received.