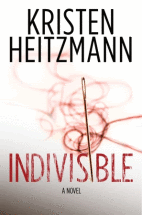 I have been looking for a good book for a while, you know one of those ones you just can't put down. I have to say this is one of those books! I have never read anything from Kristen Heitzmann before, but I am now inclined to look for some of her work(s).
The characters in this novel are captivating, in a nature that you want to get to know them better, and you do through out the book. This book keeps you interested by changing up the scenes. It does jump around a bit, but it is done very nicely to keep you reading to finish the scenario. The main characters in the story in my opinion are Jonah, who is the police chief in the small town of Redford, Colorado, Tia a candle shop owner in town, and Piper who works at the town bakery. It seems as though it is a small town where everyone kind of knows everyone. Jonah has some past demons to deal with concerning his childhood and his job. Tia and Jonah have a past to discover through out the entire book. Piper is Tia's roommate. She is a young fun loving girl who tries to get along with everyone. There is also a man in town who has a terrible phobia, he is scared to be touched. Miles is definitely a strange fellow, but seems like he would never hurt a fly.
Tia and Jonah have a troubled past together, and as the story goes on you find out what happened. Some strange things are happening in town, which leads Jonah to find the assailant. Even though Redford is a small town it seems as though s drug problem rising. Most of the action in town is about this new drug outburst. In the beginning, a strange instance happens when Piper finds a couple of deceased raccoons, that, after investigation, have been surgical sewn together. Jonah befriends the new town veterinarian, which could be a mistake.
This book is a great mystery thriller, as well as a romance story. Of course, at the beginning you would never know romance was in the air in Redford. I will definitely recommend this book to my friends and family, and anyone else looking for a great book!
**Disclaimer: Waterbrook Multnomah Publishers has provided me with a complimentary copy of Kristen Heitzmann - Indivisibe for review purposes. No other compensation was received.