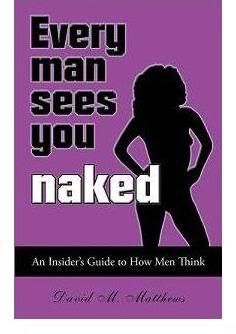 I must say I love to read, about anything, anyone, and learn as much as possible. I really wanted to read this book to get an insight to the way men think from a man. This book is excellent. As I read it I kept nodding to myself about the answers to the questions all of us women ask about the man in our lives. At the very beginning, David states that this book is straight to the point, no beating around the bush, so there is some profanity and explicit language in it, but we are all adults and can handle the language, if we really want to know how men think.
David M. Matthews is a winning composer, writer, and producer. He participated in the work of The Young and The Restless, the Nanny, and Half & Half. This book really is straight forward about the subjects within. I do believe that the title is well deserving of this work,
Every Man Sees You Naked
. David discusses the way men perceive things and how differently "us" women think from a man. I really enjoyed chapter "When Do Men Need Romance" and "What Men Want out of Their Relationship with You". These chapters especially caught my interest, from past experiences and even in the present with my fiancée.
This book is not for someone looking for scientific studies and answers. This book is written in a way that it seems as though the author, David, is actually speaking to you, as a person. I loved reading this book, it was like having a conversation with a man about men...wounds strange but that is just the way the book is composed, and it is wonderful!
Buy It:
You can purchase this book online at Ever Man Sees You Nakedand amazon.com.



Win It:


Thanks to David, one of my lucky readers will receive a cop of the book!
Mandatory Entry:
1. Follow my blog via Google Friend Connect (right side bar)
2. Like the
Every Man Sees You Naked
Facebook page. ( You could post that Z's Space Reviews sent you .)
Extra Entries:
1. Follow me on
Twitter
.
2. Like
Z's Space Reviews
on Facebook.
3. Subscribe to my RSS or e-mail (left side bar)
4. Tweet this giveaway, use the Share on Twitter Button below (Leave URL to Tweet)
5. Share this on Facebook (you may use the share on Facebook button at the bottom of the post).
6. Grab my button and put it on your blog (left side bar) (+5 Entries)
7. Visit
David's Advice Column
, and tell me something you learned. (3 Entries)
8. Add
David's App
on Facebook. (5 Entries)
This giveaway ends 2/20/11 and the winner will be chosen via random.org. The winner will receive an e-mail notification and will have 48 hours to claim their prize.
**Disclaimer: I received a review copy of the book from David M. Matthews for review, and a second copy for this giveaway. No other compensation was received for this post. I have given my honest opinion about this book.