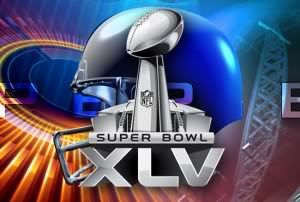 I know little about football, and what I do know has come within the past 2 1/2 years since I have been with my fiancée. He is a die hard Steelers fan and we watch all football games, just to see who is where on the winning table. When we watched the AFC Championship game and watched the Steelers play their way to Dallas, it was like a tear formed in my guy's eye! Never do I see that kind of emotion, but football brings out all emotions I guess, anger, joy, frustration, and even the urge to yell at a TV screen at a quarter back or receiver, as though that will help. My father is the same way, however, I used to just leave the room when he watched football, that is not an option in my own house with 2 small ones.
My son (5) runs around screaming Here we go Steelers! My daughter (2) has expressive communication difficulties, but Ken (my fiancée) has managed to get to to yell "Touchdown!!!" and throw her arms in the air. He feels very affirmed in his football madness, I am however just delighted she knows another word, ha ha. :)
I have acquired a few recipes from the amazing people at Vlasic® that I would love to share with you for your game day festivities.
For Super Bowl, pickles are the ultimate side and topper for the sandwiches that will be devoured in front of the TV, at tailgates and at the big game on February 6th. Vlasic® Pickles are always delicious with your favorite game day foods and have the added bonus of each serving being low in calories and containing NO fat. Even if fans root for different teams, they can still agree on one thing: great food equals a great party.
Warning: These Ideas May Result in Penalty for Excessive Celebration
Vlasic ®has a pickle for every sandwich and is also the perfect no-fuss snack for game watchers everywhere. This Game Day, Vlasic ® is making it more convenient and affordable than ever to host a great party. Through February 10th, the brand is offering 55 cents off of ANY Vlasic ® product in stores nationwide through
Coupons.com
and
Smart Source
–just look for the online banner that says "Vlasic. It's How a Sandwich Parties." Here are some super sandwich ideas from the "Food Dude" himself, Chef Kevin Roberts, guaranteed to inspire a touchdown dance or two: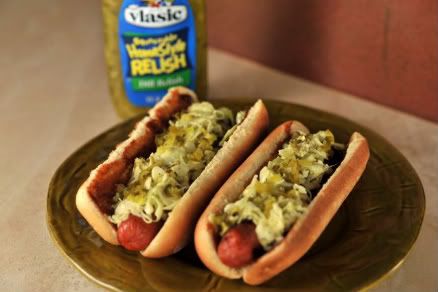 TEXAS-STYLE HOT DOG
Serves 4
INGREDIENTS:
For the Hotdogs:
4 Kosher All Beef hot dogs
4 good quality hot dog buns
For the Pickleslaw:
2 cups shredded cabbage
2 teaspoons celery seed
4 tablespoons Vlasic® Relish
3/4 cup mayonnaise
3 tablespoons apple cider vinegar
Salt and pepper to taste
2 cups barbecue sauce (use your favorite smoky flavor)
Directions:
1. Add shredded cabbage to a large mixing bowl.
2. Add celery seed, relish, mayonnaise, vinegar, salt and pepper. Mix well and put aside.
3. Grill/boil/bake hot dogs and buns until desired doneness.
4. Now build your Texas Dog. Spread some barbecue sauce on the bun, add the hot dog, as much Pickleslaw as you want and enjoy!
GRILLED CUBAN SUBS
Makes 2 subs
Ingredients:
2 loafs hero-style French bread
4 tablespoons French's® Yellow Mustard
4 Vlasic® Kosher Dill Stackers
4 slices, Swiss cheese
6 slices, Virginia ham
4 tablespoons roast pork, chopped or pulled
Directions:
1. Half the bread lengthwise.
2. Spread the mustard on both sides.
3. Add 2 pickle slices per sub on top of the mustard, then add the Swiss cheese on top of them.
4. Fold ham in half and add evenly. Then add the pork on top of the ham.
5. Fold Subs together and grill until bread is nice and toasty and cheese is melted.
(You can place a large, heavy pan on top while grilling to make this a true Panini!)
GRILLED CATFISH SANDWICH WITH DILL RELISH
Makes 2 sandwiches
Ingredients:
1 pound Catfish, de-boned and grilled
1 tablespoon, Old Bay Seasoning
½ cup mayonnaise
2 Vlasic® Kosher Dill Pickles, finely chopped
1 sprig fresh dill, minced
1 teaspoon hot sauce (use your favorite)
Salt and pepper to taste
2 Torpedo-style rolls, warmed, cut in half
Directions:
1. Clean, season and grill the catfish until flakey.
2. In a medium mixing bowl, make the relish by adding the mayo, pickles, dill, hot sauce, salt and pepper. Mix well.
3. Heat the rolls up on the grill or oven.
4. Build your sandwich by adding the fish, then relish.
PITA BURGERS WITH PICKLE RELISH
Makes 2 pita burgers
Ingredients:
1 pound Ground Meat shaped into burger
Salt and Pepper to taste
2 Pitas, halved and toasted
2 tablespoons ketchup
4 Vlasic® Baby Sweets pickles, chopped
2 Roma Tomatoes, chopped
Directions:
1. Grill burgers to desired doneness. Season with salt and pepper.
2. Toast the pita halves until crispy.
3. Spread ketchup inside the pita halves.
4. In a medium bowl, mix the pickles and tomatoes.
5. Stuff the burger into the pita and add the pickle and tomato relish.
6. Serve warm and enjoy!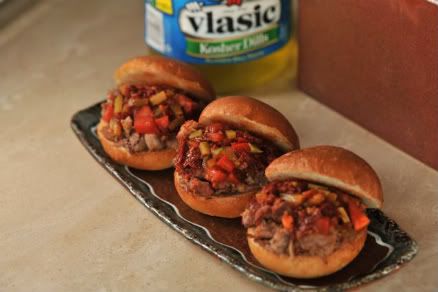 SLIDERS WITH PICKLE CHIPOTLE SAUCE
Serves 10
Ingredients:
1 pack, King's Hawaiian Bred Rolls
1 pound CHICKEN, PORK or STEAK, cooked and chopped
FOR THE PICKLE CHIPOTLE SAUCE:
1 small can Chipotle Peppers in Adobo Sauce (use sauce, too)
2 Roma Tomatoes, rinsed and diced
1 Vlasic® Dill Pickle, diced
1 teaspoon Vlasic® Pickle Juice
Salt and Pepper to taste
Directions:
1. Slice open the rolls and lay flat on a surface.
2. Bake, grill or roast the chicken, pork or steak. Let cool and chop or shred. Put on the slider bun.
3. To make the sauce, add all ingredients to a medium saucepan over medium heat. Cook and stir for 5 minutes.
4. Remove from heat and add to the meat on the bun. Make sliders.
About Vlasic Pickles
Vlasic® pickles—America's favorite pickles—offer great flavor that is low in calories with no fat. Always crunchy and juicy, Vlasic pickles are available in nine key segments including Kosher Dill Spears, Bread and Butter Chips, Ovals, Sweet Gherkins, Large and Small Whole Dills, Stackers, Relish and Peppers. Look for the familiar Stork character on the jar in supermarkets near you. For more information on Vlasic pickles, log onto
Vlasic
.
About Pinnacle Foods
Millions of times a day in more than 85% of American households, consumers reach for Pinnacle Foods brands. We are a leading producer, marketer and distributor of high-quality branded food products, which have been trusted household names for decades. Headquartered in Mountain Lakes, NJ, our approximately $2.5 billion business employs more than 4,500 people in 21 sites around North America. We are a leader in the shelf stable and frozen foods segments and our brands hold the #1 or #2 market position in 8 out of 12 major category segments in which they compete. Our Duncan Hines Grocery Division manages brands such as Duncan Hines® baking mixes and frostings, Vlasic® pickles, peppers, and relish, Mrs. Butterworth's® and Log Cabin® syrups, Armour® canned meats, Nalley® and Brooks® chili and chili ingredients, and Open Pit® barbecue sauces. Our Birds Eye Frozen Division brands consist primarily of Birds Eye® vegetables, Birds Eye Steamfresh® vegetables, Birds Eye Viola!® meals, C&W® vegetables and McKenzie's® vegetables, Freshlike® vegetables, Aunt Jemima® frozen breakfasts, Swanson® and Hungry-Man® dinners and entrees, Van de Kamp's® and Mrs. Paul's® seafood, Lender's® bagels and Celeste® frozen pizza. Our Specialty Food group manages Tim's Cascade Snacks®, Snyder of Berlin® and Husman's®. Further information is available at
Pinnacle Foods
.
I hope you enjoy these recipes, my family and I enjoyed the Sliders last night for dinner, just as a pre-game try-out! Look for a giveaway soon to help replenish your Vlasic® Pickle supply!
If you have some game day recipes you would like to share please feel free to comment!
**Disclaimer: I received to compensation for this post.