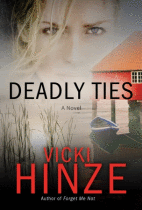 From the Back Cover:
Her enemy will stop at nothing for control ... and everything is not enough
A horrific crime shatters Lisa Harper's idyllic childhood. Her father is dead and her desperate mother, Annie, quickly marries Dutch Hauk, an abusive monster who soon reveals his hatred for Lisa. To protect her, Annie defies her ruthless husband and forfeits custody to a trusted friend. Enraged, Dutch vows to keep Annie and Lisa apart--and he does. Years later, though keenly aware of Dutch's evil intent, Lisa and her mother seize a chance to be a family, safe in a home where love dwells. But they fail to fathom how far Dutch will go to keep his vow.
Determined to control his women, Dutch proves resourceful. His associates in crime are feared at the highest levels across the globe--and for Lisa they plan a fate worse than death. Yet she too has formidable connections: ones like former Special Operations officer Mark Taylor. Burdened by his own traumatic past, Mark has loved Lisa from afar. Now, for Lisa and her mother to survive, Mark must risk his life--and even more difficult for him, he must trust God--as one question haunts them all: Can Mark and Lisa untangle these deadly ties before it's too late?
My Review:
This book really is full of twists. I do believe however, this is a story for women, kind of like TV for women. The story is totally awesome, but I can not see someone like my fiancée reading it, or if he did, he would say chick flick. I love LOVE love to read! I must say that I love the kind of books I can't put down. This is one of those books. There was recently a book review I did that I was excited about also because it was a gripping just can't stop reading novel. I have never read any of Vicki Hinze work before, and I will definitely be sure to find some of her work! If you are looking for a great story and tons of twists and turns, this is the story for you! I will definitely recommend this book to my girlfriends.
**Disclaimer: I received a copy of Deadly Ties by: Vicki Hinze for review pruposes from
Waterbrook Multnomah Publishers
. No other compensation was received.