A few weeks ago I conducted a review on Purex Crystals Softener and how much I loved it. Now, you have a chance to win a free bottle!
Here is a repost of my review: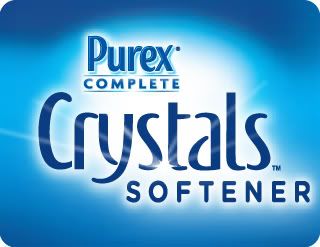 I am so delighted to be one of the first people to try and review this product. I was sent a sample of Fresh Spring Waters Purex Complete Crystals Softener to use and review! The sample bottle had enough in it to do 4 loads of laundry. I have been a Purex fan since I was in college and only had one day a week to do laundry. Purex laundry soaps and softeners were the only ones I could still smell at the end of the week when I opened my drawers in the dresser.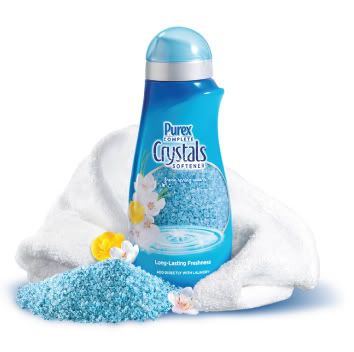 This new softener is sure to be a hit with anyone who does laundry. When I first tried it, I thought of bath salts, that make your skin feel so silky and smooth. These crystals have the same affect on the laundry. My laundry was so soft, and smelled incredible! These new crystals are 92% natural, where other fabric softeners are oil based. The most interesting fact I found out about most oil based fabric softeners is that they can reduce the effectiveness of flame retardant treatments used on clothes! The new Purex Crystals is 100% safe on those treatments.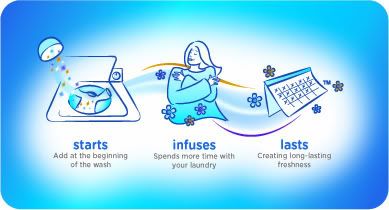 I did my laundry at my parents house, since I have not gotten a washer/dryer at my new house yet, and they could not believe how you could smell the fragrance of the crystals throughout the whole house! I didn't get to finish drying all of it before it was time to go pick up my fiancée from work, and had to dry them at the laundromat. There were a few people there when I dried the clothes. I found it to be interesting with all the different fragrances in the area, you really could smell my laundry over all of it!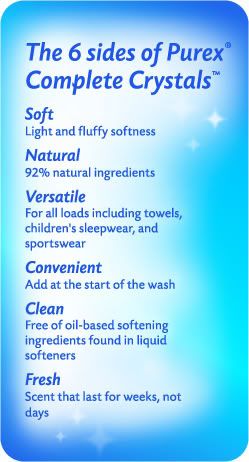 My fiancée works at a plant that manufactures oil, so figure his clothing stinks of oil and grease, and are usually so polluted with oil even after drying they are very greasy and stiff. However, after washing and drying his work clothes...they smelled of the softener crystals and were not their normal greasy grimy selves! I did nothing different with my laundry, except add the softener crystals. I will definitely be purchasing this product on a regular basis for our laundry.
**Disclaimer: I received a sample of Purex Crystals Softener to try and give a review based on my honest opinions. No other compensation was received for this review.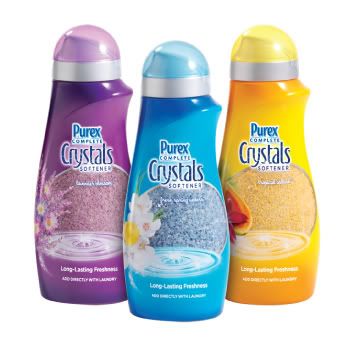 Win it!
Mandatory Entry:
1. Follow Z's Space on Google Friend Connect (Right Side Bar)
2. Visit
Purex Crystals
and tell me something you learned on their site, or let me know if you printed their coupon.
Extra Entries:
1. Follow
Z's Space Reviews
on Twitter. (Leave username)
2. Like
Purex
on Facebook. (You could post on their wall that Z's Space Reviews Sent you, pretty please?)
3. Follow
Purex
on Twitter. (Leave username)
4. Like
Z's Space Reviews
on Facebook.
5. Subscribe to RSS or E-mails. (On left side bar)
6. Tweet this giveaway, use the Share on Twitter Button below (Leave URL to Tweet)
7. Share this on Facebook (you may use the share on Facebook button at the bottom of the post).
8. Grab my button and put it on your blog (left side bar) (+5 Entries)
This giveaway will close on 3/29/11. Open to US residents only. Winner will be chosen via random.org.