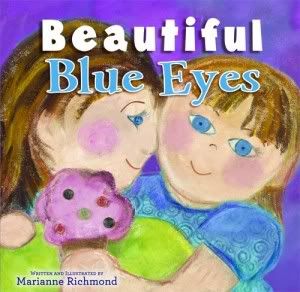 I am always open to new reading material, it makes me even happier to get books to read to my children! We love our story time. I must say I absolutely love this book. The story is pretty much about feelings and emotions through a child's eyes. You can tell when they are happy, sad, sick, mad, any emotion through their eyes. My daughter, Nevaeh, loves the pictures in this book. As I read her the story she points to the pictures and says happy, sad, sick etc. This is a great accomplishment for my daughter as she has no real expressive communication. She is in several programs to help get her talking but it is just not happening. She will be 3 in July and can't tell me much of anything, which makes me sad, children always have something to say, even if it is just a made up story about the monster in the closet or there's an animal out side, even while driving down the road making things up as we pass by farms, trees, etc... I m just so sad for her that she can not express herself.
We read this book at east once a day (usually more) because she gets so excited and is actually learning to say HAPPY, SAD, SICK, SILLY, and she will try her hardest to make those expressions with each turn of the page. This is a very cute book, and great for any child. We however, have a great love for the emotion and expression it has bought out in Nevaeh. The illustrations in this book are excellent. They are very different in a sense. Such as they look like pastel drawings on a painting canvas (I only say that because they reminded me of Art class and we had done these drawings before), but use buttons as accents, and string for hair, I mean they are all illustrated, not literal, but beautifully done!
**Disclaimer: I received a copy of Beautiful Blue Eyes By: Marianne Richmond for review. I have given my honest opinions of this book. No other compensation was received.