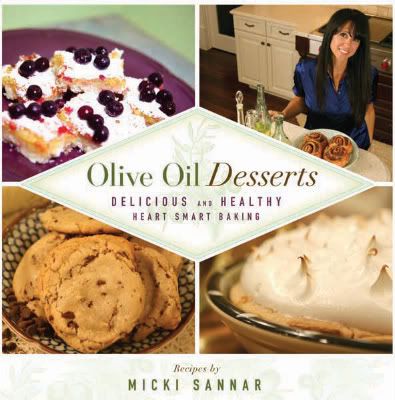 I love to cook, especially bake. I am sure that trying to lose weight is not happening as fast as I would like because I keep baking treats for the family. I do try to make the ingredients healthy, using different oils, sugar substitutes (Splenda etc...), different grains. However, my fiancée if totally against anything "Healthy". And he is totally able to tell when something isn't fattening enough to kill a cow, lol.
I, did however, sneak some of these recipes in over the last month, that is why I took so long to do this review! I would make his favorite FATTY brownies, then use a brownie recipe out of this book, same with cookies, pies, etc... - and guess what?!? He liked the "Healthy" brownie and other recipes better! With the brownies he said, "Honey, did you buy something new for these browines?" I replied no, just a new recipe." Ha ha, my secret.
I don't want to just make healthy things to lose weight, I really want my family to be healthy, and happy! I must say I absolutely LOVE this cook book! Not only are there delicious desserts in it, but amazin
g facts about nutrition, heart health, substitute charts, and much more! I was amazed to see how much more Butter, Margarine or Shortening you need as apposed to Olive Oil.
You can look inside this book at
amazon.com
, where the current price is listed as $16.55 as of today, amazon.com prices change frequently!
You can also find the book on
QVC
!
Find Micki Sannar:
Follow Micki on
Twitter
Like Micki on
Facebook
Check out her
Website
and
Blog
.
Note and Tips from Micki:
If you know your EVOO well, please use a mild tasting olive oil. If you are unsure about the different blend and tastes of olive oil, a pure olive oil from the grocery store is a great second option. It is less expensive and more refined than EVOO, however it still contains the monounsaturated fat which is good for your heart. Personally, I use olive oil from The
California Olive Ranch
(everyday fresh blend). Some of the Wal-Mart stores across the U.S. sell their EVOO. It is also available online and if you use the code "Micki" you will receive free shipping (and they ship fast!).
A few recipes call for a "butter extract". This is optional as I have baked my recipes with or without the extract and they still work well. Butter extract is found in craft, cake decorating, and various grocery stores. I have also used the Italian soda syrup (butter rum flavor), and it works beautifully.
If you choose to bake with whole wheat flour, be sure to use whole wheat pastry flour. Whole wheat pastry a different type of flour than that which is used for baking bread. Whole wheat pastry flour available at most health food stores and some grocery stores.
Bob's Red Mill
has a whole wheat pastry flour which works well.
Substitutions for eggs and dairy are listed in the back of the book should you choose to go vegan.
Once nearly nonexistent in the American kitchen, olive oil is now a common household staple for many. There are many articles in recent years about the health benefits of olive oil. Try goggleing, "olive oil and health" together and you will open a treasure chest of articles and reputable studies about olive oil and all of the great health benefits associated with it.
From time to time I receive email because someone has read or seen on TV that if you cook or bake with olive oil, it will become carcinogenic. I would like to dispel that myth. In all of my research while writing my cookbook, I have never found one study or reputable article which states that as fact. Olive oil has a very high smoke point (430ºF or 221ºC), and unless you burn olive oil, it in no way becomes carcinogenic. BTW, all of my recipes are below the smoke point, so feel at ease as you bake with this liquid gold.
Although it is true that the best way to consume olive oil is fresh pressed and uncooked, baking with olive oil is still healthier than baking with manmade trans and saturated fats. So smile and enjoy a new way of baking as you learn the secret to healthy desserts that do not taste healthy!
I would like to thank Micki for letting me review her amazing cook book and helping my family be healthier with our "treats".
THANK YOU MICKI!
**Dislcaimer: I received a copy of Micki Sannar's Olive Oil Desserts Cookbook for review. I have given my honest opinion of this book. No other compensation was received.