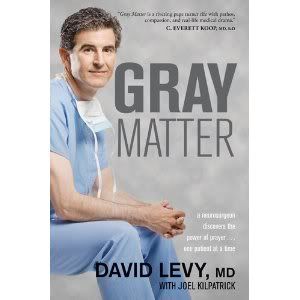 I have said a million times I love to read. However, I have only been blogging a little over 6 months so a lot of you don't know me very well. In my about me section there is a part about how I went to college to be a doctor, a neurosurgeon to be exact. I have an amazing passion for the medical field, but I am totally in love with brain surgery.
I found this book to be an exciting story about neurosurgery and the spiritual need in people's lives. Not just to those who are in need of medical attention, but in everyday life. Dr. Levy is a different kind of surgeon who wants to put the mental as well as the physical health in front of his patients. He wants to heal patients physically as well as spiritually, and in doing so he finds even more joy in his work. He is also one of very few, if any, doctors that had the courage to implement a prayer into a pre-op setting for patients.
Dr. Levy is very detailed in his procedure descriptions, even the most complex steps were explained with the greatest of ease, showing me exactly how much he really loves what he does, and how he strives to be a perfectionist with his work. Of course, there are things that go wrong, and can not be helped, and Dr. Levy explains those trials and tribulations to us as readers in this book. Not all of his patients were receptive to his prayer or offer of one, instead they were down right mean and hostile. Through it all Dr. Levy still does what he believes in, which is getting to know a patient as more than a diagnosis, but as a person as a whole, including offering the help on the spiritual side. I am sure there are many people who would love to have his demeanor and beliefs before a procedure, however, it is very unorthodox.
This would be a great read for anyone, not just someone in the medical field, or just a religious/spiritual person, but anyone who is looking for wonderful life stories of people. I think even if the story Dr. Levy told ended badly, it was still a great story about the person, procedure, and doctor's experience. I will definitely recommend this to friends.
**Disclaimer: Tyndale House Publishers has provided me with a complimentary copy of this book for review. My opinions are my own. No other compensation was received for this post.