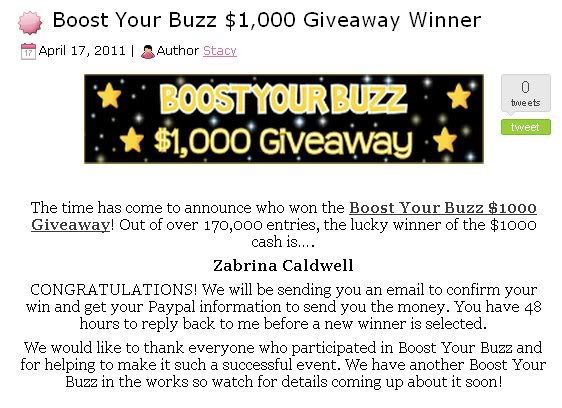 I have been following Simply Stacie for sometime now, and one day on Facebook, I saw a post for this giveaway. I decided what the heck I will go a head and fill out this form and submit it. It was, however, a lengthy process following each site on all the social media allowed and signing up for e-mails but it paid off. I kept getting locked out of Facebook and Twitter for following too many people and pages in such a short amount of time.
I had seen a lot of posts about people who did not finish their forms because it could only be submitted once, so I wrote down where I had stopped and kept going back in and trying until the sites would let me finish.
I WAS SO EXCITED TO WIN THIS! Thank you to
Simply Stacie
,
Survey Junkie
, and
Little Yaya's
for all the hard work that went into this giveaway.
I had so many people asking what I did with the money, and it was only a little over a week ago that I won, but the money was gone the following day...however, my kiddos got a great Easter, my son, Zach (5), got a new bike which I thought he was going to jump out of his skin when he saw it yesterday morning. My daughter, Nevaeh (2), got a bunch of Disney Princess things (jewelry box, dress up jewelry to put in it, etc...) a MegaBloks Dora block set, and they both got a few DVDs I won on some blog giveaways! I bought my wonderful fiancée a Playstation 3 (I have been promising him one since we got together - 3 years ago lol) and a few games, I bought myself DDR (Dance Dance Revolution) for it, and a new purse and wallet. We got our marriage license and rings, and paid to have the license finalized, and I paid some bills. Plus we all went out to dinner! It was nice to just do something fun and not worry about it, I splurged on all the great stuff because this was money we would not have had so we spent it on us. Plus the kiddos have some games for the PS3 and can play with us, I had won some Blue-Ray DVDs from Disney giveaways that we could not watch cause we didn't have a player, now we do!
There is one coming up again in August. I will be sure to post about it when it happens, and I will definitely be sure to enter. The best thing about following all of these new blogs is that I have found so many new giveaways and great reviews. I have even won somethings this week from the bloggers on the form. Thanks again and good luck to everyone next time!