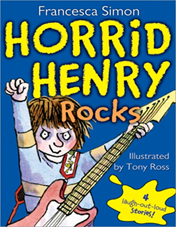 Horrid Henry is a series about a mischievous boy. He actually reminds me of my son, Zachary who is 5, and plays tricks on his sister, Nevaeh who is 2 at this time, and gets her into trouble. Henry plays many mean tricks on Perfect Peter, his little brother. I really liked how this book actually has 4 stories wrapped up in one book. The first chapter gives you an idea of how Horrid Henry really is...how perfect Peter is, and the chapters that follow introduce some of Henry's classmates and acquaintances.
I also like how each character has an adjective describing them before their name, Moody Margaret, Sour Susan, Whimpy William, etc... You get a feel of how kids read each other by their adjectives before their name. Henry knows Moody Margaret is mean and bossy to her friends as in the second chapter when she has a sleep over for her Secret Club, Whimpy William cries a lot about everything. My son thought these were good ideas, plus it gave him a sense of the meaning of the words. In the final chapter of the book, Horrid Henry desperately wants to see his favorite band perform, and his parents and brother do not like them so they purchase tickets to Perfect Peter's favorite band. While at the concert Henry wins the chance to sing and dance with this band who he truly hates, when asked to start a song off he sings a song of his favorite band's. He then receives tickets in the mail from the band telling him they saw him in a video singing their song and he also gets a back stage pass! I thought this story was wonderful considering, Henry never gets his wish...
I think our favorite part was chapter 3 the Autobiography, where each student in Horrid Henry's class wrote a page long story about their life and Henry stole Moody Margaret's and replaced it with his version of her life, all the while not knowing she replaced his with her version of his. There are also some really cute rhymes in the stories from their favorite bands. I would definitely recommend this book to anyone who has children of age looking for some wild stories to tell. I will be getting the other books from this series also!
**I am not sure of the order in which they were published.**
Horrid Henry
Horrid Henry's Underpants
Horrid Henry's Stinkbomb
Horrid Henry and the Soccer Fiend
Horrid Henry Tricks the Tooth Fairy
Horrid Henry and the Scary Sitter
Horrid Henry and the Mega-Mean Time Machine
Horrid Henry's Christmas
Horrid Henry and the Abominable Snowman
Horrid Henry and the Mummy's Curse
& Many More
You can read more about
Francesca Simon
on her website. You can also find the complete list of
Horrid Henry Books
. There is also a list of Francesca's
other books
for you to check out!
**Disclaimer: I received a review copy on this book from
Sourcebooks
. I have given my honest opinion about this book. No other compensation was received.