I was more than excited to find out I would be reviewing for
Pure Romance
! I have heard of the company but had never tried any of their products before, and was definitely eager to get to it with getting married and all. I think the soon-to-be hubby and I need some time alone, and all of these products are great enhancers!
The kit I received was amazing! That is the only word I can use to describe all the awesome products in it. It included: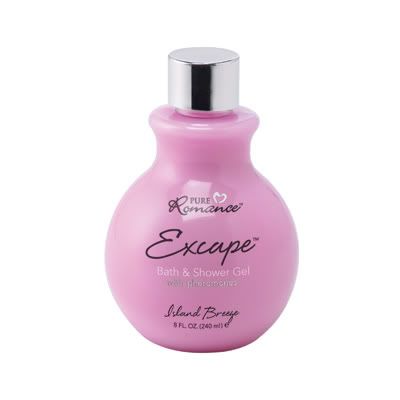 Excape - Bath & Shower Gel
Share a shower with your partner and feel a million miles away! Indulge in a bath or shower filled with pheromone-infused bubbles to spice up foreplay and tone down stress. Your own mini getaway awaits…just open the bottle! Especially gentle and sensually scented, the specialized formula leaves skin soft and sexy compliments of real California pink champagne, ginseng, and vitamins E and B. Also safe for hot tubs and Jacuzzis. 8 oz. $15.00
Island Breeze, Plumeria and Mangosteen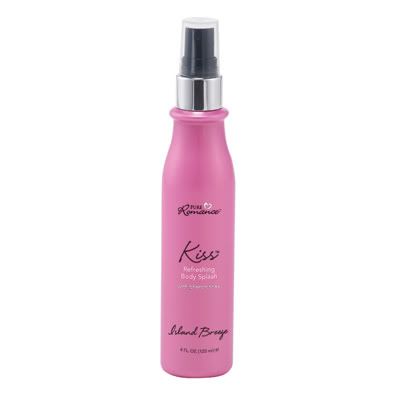 Kiss - Refreshing Body Splash
Just a light spritz of pheromone infused Kiss Body Spray after each shower, and your total body is rejuvenated with sweet scent and green tea and white tea extracts. But it gets better: the pheromones enhance your natural sexual scent to make you completely irresistible! 4 oz. $19.00
Island Breeze, Mangosteen, Plumeria
Heart Massager - Reusable Heat Pack
Sensual and therapeutic, this Heart Massager Heat Pack warms like magic to soothe your partner's body and mind in blissful ways. The portable heat pack stays hot for up to one hour — great for massaging your partner, warming hands during chilly nights, calming unwelcome cramps, and massaging your own sore muscles, too. Use two Heart Massager Heat Packs with Burning Desire for a hot stone massage experience! Reheats easily for use again and again! $15.00
Serenity - Aromatherapy Massage Lotion
Serenity Massage Lotion makes it easy to reduce stress and increase your appeal! This anti-stress aromatherapy massage lotion is infused with pheromones that react to your body chemistry, helping you feel nothing but relaxed, confident, sexy, and daring. Use Serenity Massage Lotion with our Super Deluxe Mitten for a truly blissful experience. 4 oz. $19.00
Entice - Body Lotion
Entice your lover with soft, silky skin that's kissed with pheromones! Apply this luxurious body lotion twice daily for skin that is absolutely irresistible. Infused with pheromones, the healing oils in this alluring lotion are combined with shea butter and moisturizing aloe to make for a transformative escape. 7 oz. $16.50 Island Breeze, Plumeria, or Mangosteen
Bosom Buddy - Lip & Nip Tingling Balm
Bosom Buddy enhancement cream will stimulate more than the taste buds! Apply this smooth, silky, flavored enhancement cream to nipples and lips for a tingling sensation, heightened arousal, and more supple skin. Bosom Buddy is great for both men and women! 30 ml $14.00
STRAWBERRY OR VANILLA CUPCAKE
I will say my favorite product of the bunch is the Busom Buddy, it just added so much more to our experience together! All of the products I received were the Mangosteen scent. This scent is so sensual, not over powering, and just extraordinary. The body lotion, massage lotion, bath gel, and refreshing body splash make a great team in the same scent, and they are all infused with pheromones! I am sure any girl would love a set of great intimacy items such as these. I also wanted to elaborate on the Heart Massager, it is reusable, which is great. This was my fiancée's favorite product from the bunch. It is just simply a great massager and goes great for alone time.
I think the best thing about
Pure Romance
is that you can book parties with consultants and have a great girls night. You can also go
here
to find out more about becoming a consultant and selling Pure Romance yourself!
There are some amazing products for mother's day gifts make sure to get your order out in time to receive them, May 8th is Mother's Day!
Buy it:
PureRomance.com
Find a
Consultant
from the locator!
Host a
Party
Win it:
The wonderful people at Pure Romance have offered one LUCKY reader a Pure Romance kit like mine!
Mandatory Entry:
1. Follow Z's Space on Google Friend Connect (Right Side Bar)
2. Visit
PureRomance.com
and tell me a product I didn't mention that you would love to try!
Extra Entries:
1. Follow
Z's Space Reviews
on Twitter. (Leave username)
2. Like
Pure Romance
on Facebook.
3. Follow
Pure Romance
on Twitter. (Leave username)
4. Like
Z's Space Reviews
on Facebook.
5. Subscribe to RSS or E-mails. (On left side bar)
6. Tweet this giveaway you may use the tweet below. (Leave URL to Tweet)
#WIN #Giveaway Pure Romance Massage Set (US) 5/20/11 @pure_romance @ZsSpce http://bit.ly/kiQenj
7. Share this on Facebook. (Leave URL to Post)
8. Grab my button and put it on your blog (left side bar) (+5 Entries)
**Disclaimer: I received the products mentioned for review purposes. I have given my honest opinion of these items. No other compensation was received.