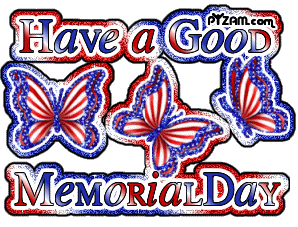 I love interacting with my kiddos, working with crafts, work sheets, and just learning. I am sure they are not aware of it yet, but everything we do has an educational purpose. They love holidays because that means more crafts and time with mom having a blast.
I found a few websites I would love to share with you for great free fun for you and the kiddos!
Apples 4 The Teacher
has a million wonderful activities for everything, not just
Memorial Day
!
Enchanted Learning
is another place that has many activities. Memorial day can be found
here
.
I found a couple nice ideas here at the
Purple Trail
! Also, at
Family Education
.
Had I thought about it more, I know of a ton of party supply stores to get your decorations at also...darn it, our power was of all day yesterday, Friday, and I was so super busy this month with the kiddos 2, 4, & 6 month evals and follow ups, it was really tough. Plus there was the blogger blowout and losing my posts and entries to giveaways. At any rate, I hope you all find something fun for the kiddos. Have a great - SAFE holiday!