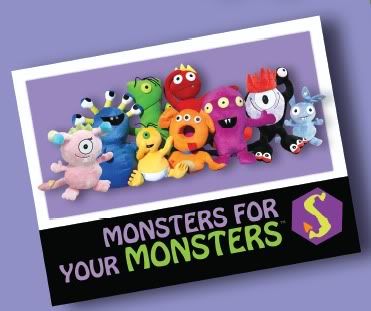 I had the pleasure of receiving and reviewing a ScareMeNot, Protector Patty. Now, a child imagination is amazing, but sometimes, it is not for the best. If you're a regular reader, you know my daughter is a special needs child who loves stuffed animals! However, she is only 2 and sometimes, at night she thinks "her babies" are monsters or being hurt by monsters...normal for a child her age. We received Protector Patty and she was so excited because she has lots and lots of eyes to see everything around, and make sure nothing gets Nevaeh, or her little babies!
This little gal is very well made, with a sturdy tail with Velcro strips to keep her hanging. there are no little pieces to come off and cause harm to children, so she is good for any age child! She is super soft and squishy to make hugs even more lovable from your pal.
Meet Protector Patty!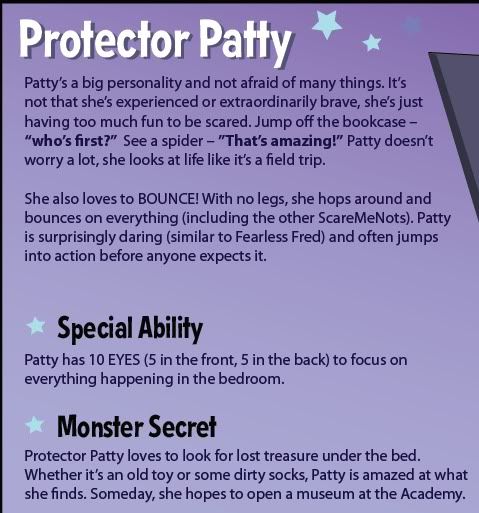 You can Meet the Gang
here
. There are some really great little monsters! The gang includes: Valiant Valerie, Knock-out Ned, Courageous Carrie, Fearless Fred, Guardian Gus, Deep Breath Dudley, Defender Dave, and Watchdog Wally. Each one has their own little story, so if you decide to purchase one, make sure to read them, they might just fit in with your little one. Plus, the stories are just too cute.
Nevaeh is just in love with Patty, here are a few pictures.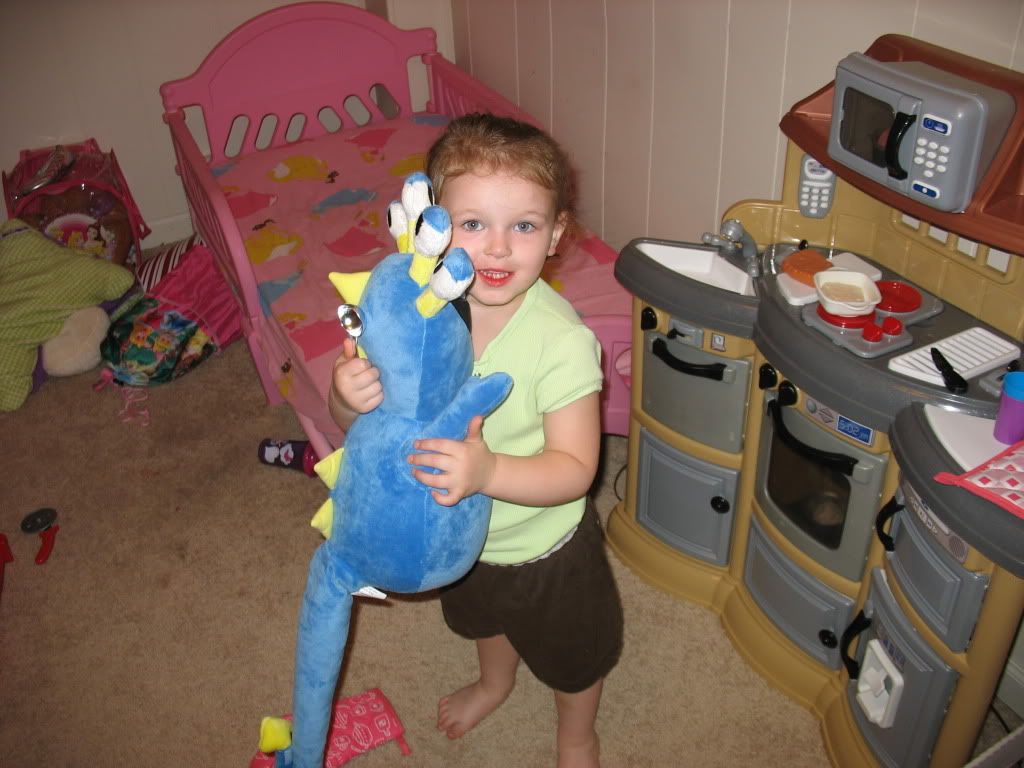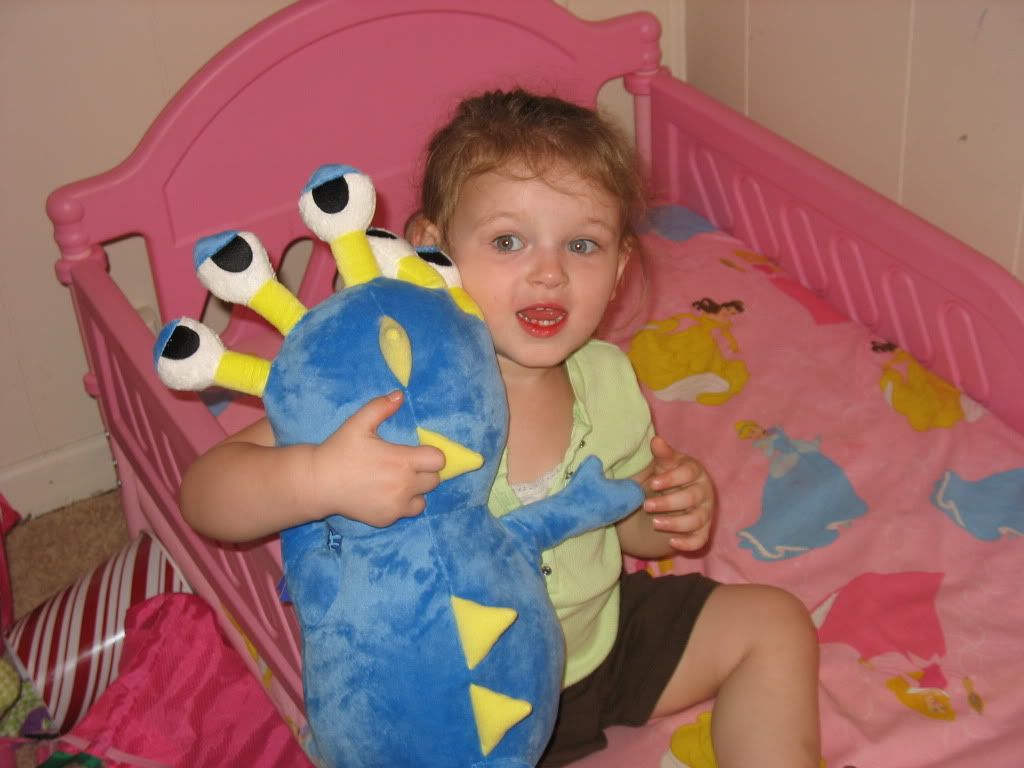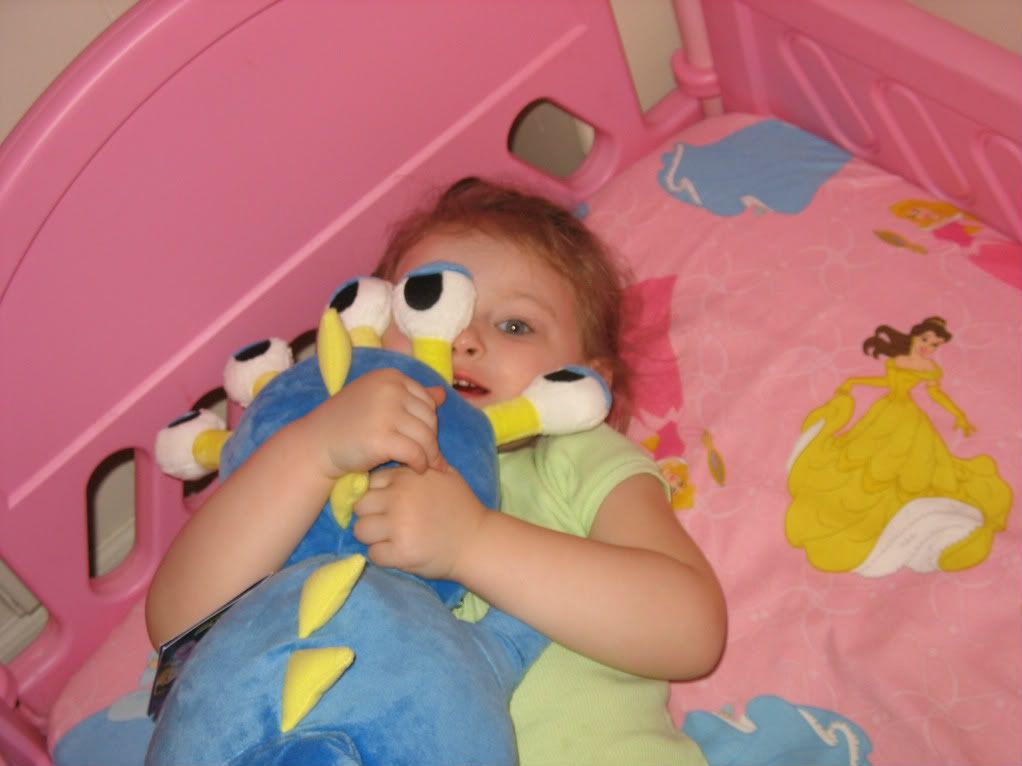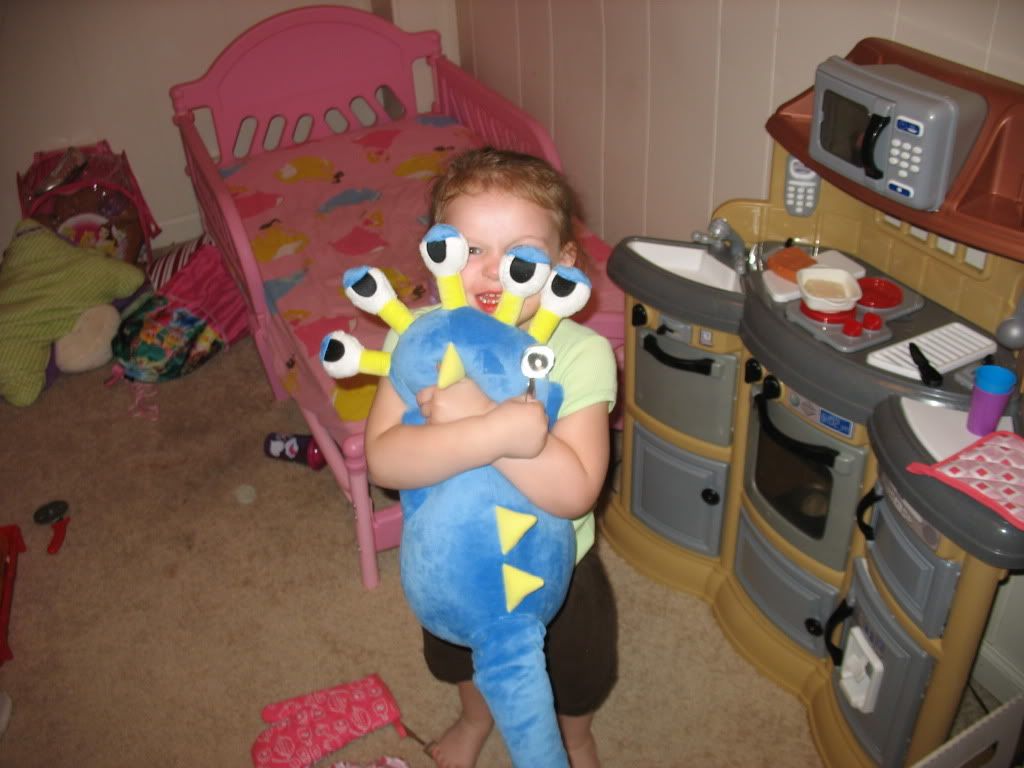 HOW THEY WORK

Protector Patty has been watching over Nevaeh's closet full of babies for a few days now, and even taking naps - for some reason, my daughter loves to nap on the living room floor, so we have to go get Patty from the closet upstairs.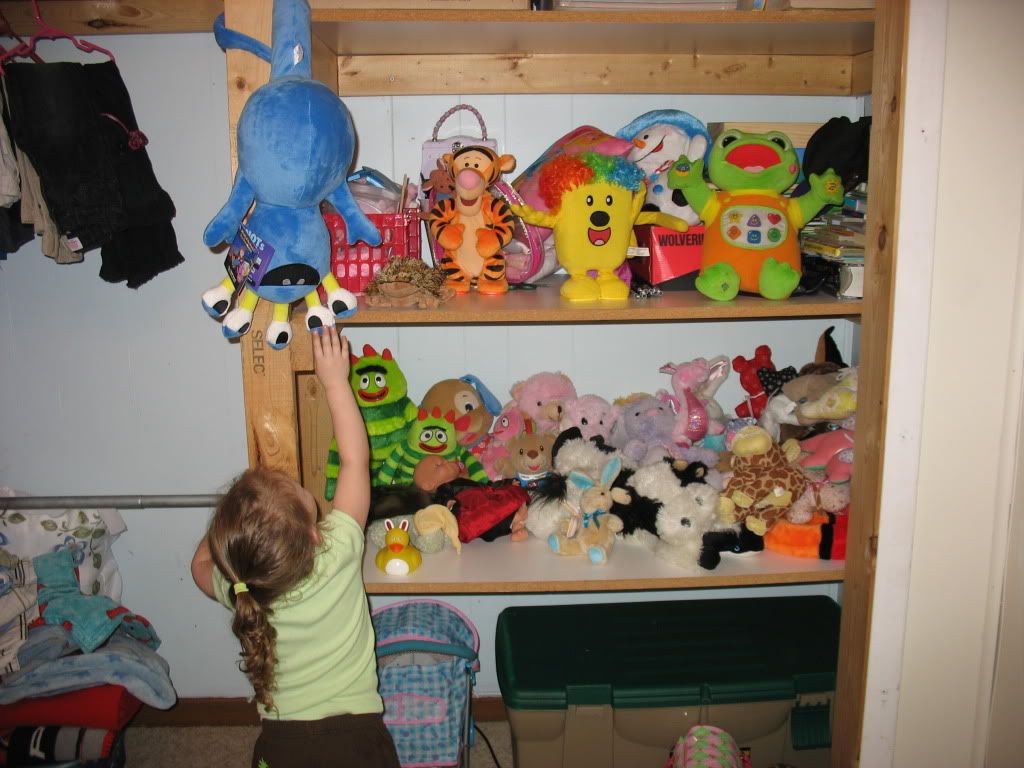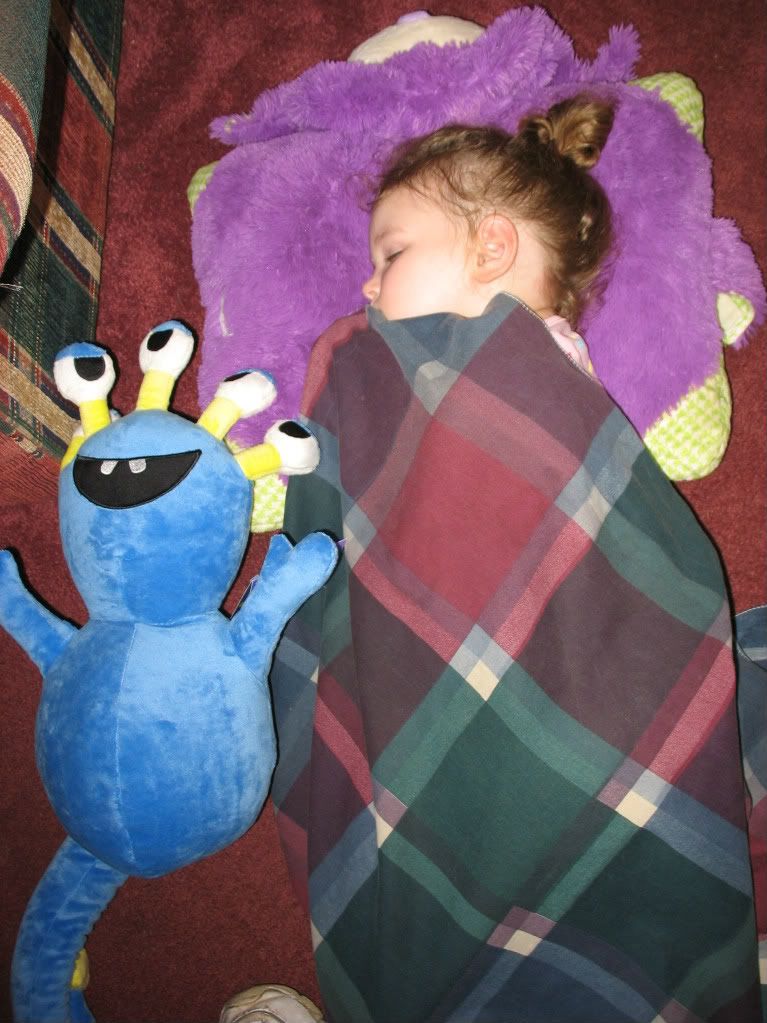 You can also print out coloring pages for the kiddos and hang them up in their rooms. Just Click the picture below!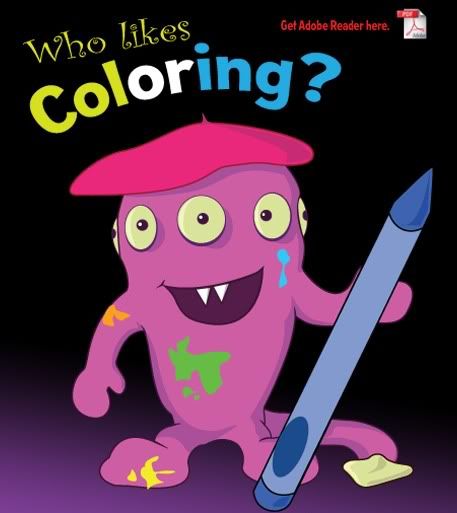 ScareMeNots are definitely a must for kiddos who think there is something going to get them. I am 6 years older than my brother, and I remember when my brother was little, we had paneling in our rooms with little black spots on the wood grain, and he would have nightmares that they were bugs going to bite him. I remember my mom sitting on the floor next to his bed with her head next to his and falling asleep with him because he was so scared. One of these guys would have been perfect for watching out for the "bugs".
I wanted to list the awards ScareMeNot has be given. Clicking the picture will take you to the press room, where you can click awards to see a larger picture. You can also read some great articles from many different magazines and companies!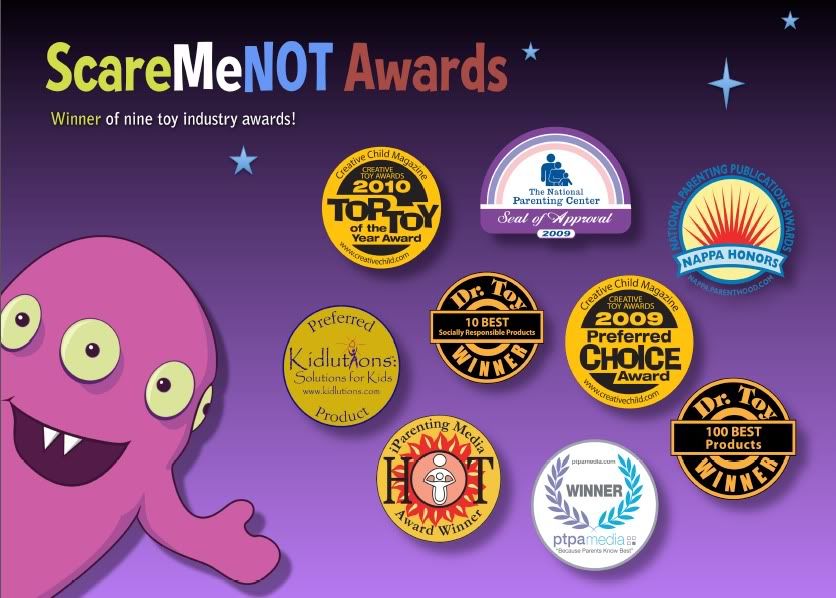 BUY IT:
ScareMeNots can be purchased on the
website
.
WIN IT:
ScareMeNots has generously offered one lucky reader a ScareMeNot of their choice!
Mandatory Entry:
1. Follow Z's Space on Google Friend Connect (Right Side Bar)
2. Visit
ScareMeNot
and tell me which one of these monsters you would love to have for your little one.
Extra Entries:
1. Follow
Z's Space Reviews
on Twitter. (Leave username)
2. Like
ScareMeNot
on Facebook.
3. Follow
ScareMeNot
on Twitter. (Leave username)
4. Like
Z's Space Reviews
on Facebook.
5. Subscribe to RSS or E-mails. (On left side bar)
6. Tweet this giveaway you may use the following Tweet: (Leave URL to Tweet)
#Win ScareMeNot of Choice #Giveaway @ZsSpace 6/15/11 http://bit.ly/iTg1gP
7. Share this on Facebook, you make copy and paste the following into your status message box:
Win your choice of a ScareMeNot from Z's Space! Ends 6/15/11 http://bit.ly/iTg1gP
8. Grab my button and put it on your blog (left side bar) (+5 Entries)
9. Blog about this giveaway. (5 Entries)
**Disclosure: I received a ScareMeNot for review purposes. I have given my honest opinion of this product. No other compensation was received.