As warm weather starts to trickle into the extended forecast, it's time to start planning for upcoming vacations and three-day weekends. Whether traveling by car or airplane, you'll need to have some entertainment on-hand for yourself and your young traveling companions. While travel entertainment is of upmost importance, don't forget to throw some classic games into the trunk or carry-on bag for entertainment when you arrive at your destination. There's nothing like a sun-drenched day at the beach, capped off with a night of SORRY!, MONOPOLY, OPERATION and more!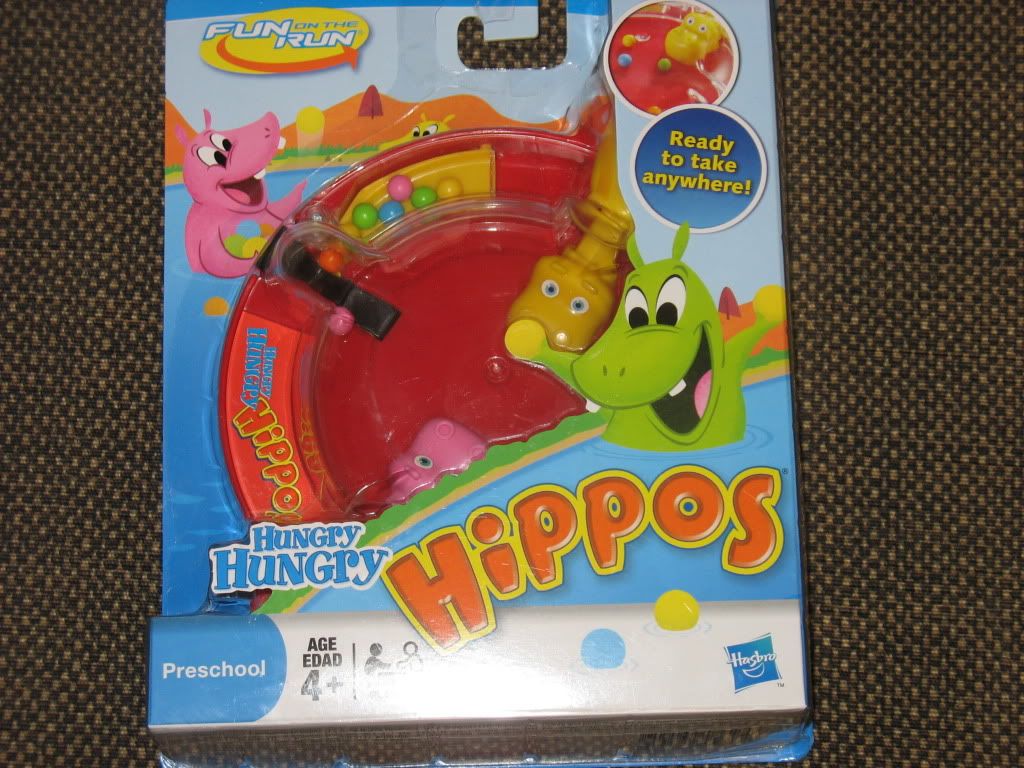 We had the exciting opportunity to review the Hungry Hungry Hippos Fun on the Run travel game. I will say this is a great game that I used to play with my brother when I was little, but, the problem was, we would always lose the little balls for the Hippos to eat. Hasbro has done an amazing job making this game easy to take on a road trip, picnic, etc... The game is covered by a plastic dome which holds in all the little bits for the Hippos to eat. I am amazed at how well constructed this little game is. My kids are hard on everything, and this will withstand them for a long time. It has been thrown, kicked, and smacked around, still great! My kiddos are both special needs, so it is not like they are just destructive, they just can't help it sometimes, especially when they want their own way and the other does not see it that way.
My opinion, this game is a great addition to our activities! I always take a "bag 'o goodies" to every function to keep the kiddos busy, this will always be in there, along with a few others I will add to the collection!
SUMMER TRAVEL:
This spring and summer, Hasbro has your travel entertainment covered. With a variety of options – from card games to compact Fun on the Run games – the kids won't want to leave the back seat!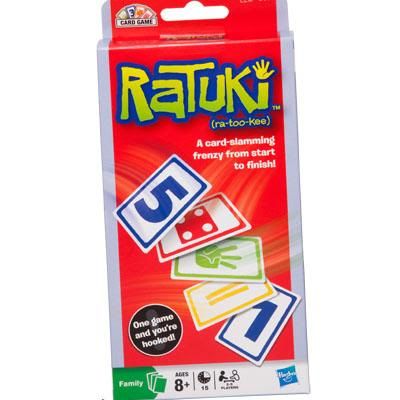 Travel time will fly by with Hasbro's newest card game, RATUKI. It's a frantic race to form piles of cards by playing cards one to five in number order, playing either a higher card (five on top of a four) or a lower card (three on top of a four) as quickly as possible. When you slam down a five, slap the pile, yell "RATUKI!" and collect the cards. At the end of each round, players count their cards and the first player to get 100 total points wins.
Classic game fans interested in taking the fun on the road will love Fun on the Run games. These affordable games are portable versions of favorites such as CONNECT 4, HUNGRY HUNGRY HIPPOS, GUESS WHO? and BATTLESHIP. When the vacation is over, kids can pack these games in a backpack for fun on the school bus or during an after-school play date.
SHARE SWEET MOMENTS OF FAMILY FUN:
Hasbro and Hershey's Kisses Chocolates have teamed up to make your Family Game Nights extra special and extra sweet with HERSHEY'S KISSES Brand Milk Chocolates. Visit
KissesFamilyGameNight.com
for information about how you can share sweet moments of family fun and enter to win a $10,000 family room makeover! You can also enter to win daily prizes, such as Hasbro games for your next Family Game Night or coupons for free 12 oz. bags of HERSHEY'S KISSES Brand Milk Chocolates. You can also play an online version of Hasbro's cheetah fast card game, Ratuki. Once you start playing, you won't want to stop!
SCRABBLE WORD BUILDER:
Need a little help on the Scrabble board? Look to the Scrabble Facebook page for some extra words of wisdom. Click on the "Word Builder" tab on the left-hand side of the page, and simply type in the letters on your tile rack. The Scrabble "Word Builder" will instantaneously generate a list of all the words you can create with your letters. The list will also give you definitions and point values for each word.
GIVEAWAY:
One Lucky reader will receive the same hungry Hungry Hippos Fun on the Run game I received.
Mandatory Entry:
1. Follow Z's Space on Google Friend Connect (Right Side Bar)
2. Visit
Hasbro
and tell me something you would like to have from their site!
Extra Entries:
1. Follow
Z's Space Reviews
on Twitter. (Leave username)
2. Like
Z's Space Reviews
on Facebook.
3. Subscribe to RSS or E-mails. (On left side bar)
4. Tweet this giveaway, use the Share on Twitter Button below (Leave URL to Tweet)
#WIN Summer Travel with Hasbro Games - Fun on the Run Hungry Hungry Hippos Game @ZsSpace http://bit.ly/lfPGs0 5/22/11
5. Share this on Facebook (you may use the share on Facebook button at the bottom of the post).
6. Grab my button and put it on your blog (left side bar) (+5 Entries)
**Disclaimer: I received a Hungry Hungry Hippos Fun on the Run game for this review. I have given my honest opinion of this product. No other compensation was received.