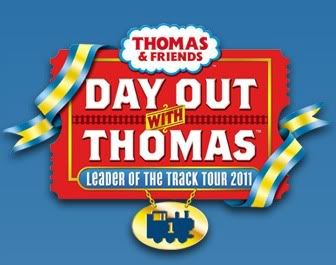 Greetings Thomas the Tank Engine Fans,
Can I get a Peep! Peep? We would like to cordially invite you and your kids to be reporters for the Day Out with Thomas: Leader of the Track Tour 2011 which just kicked off this month.
How does it work? Well take a look at the
Day Out with Thomas Schedule
and choose an event that you and your family might be interested in attending. We will provide 4 tickets to you and your family so that you can cover the event by tweeting from there and blogging about it after, posting your photos and more! Thomas the Tank Engine will also share yours and your kids breaking news reports through his Twitter feed--
http://twitter.com/trueblueengine
.

Pulling out of the station for its 16th consecutive ride on the rails, the Day Out With Thomas: Leader of the Track Tour 2011 will visit more than 45 cities in the United States and Canada. Day Out With Thomas is the only place for families to take a ride with a 15-ton replica of everybody's favorite No. 1 engine, Thomas the Tank Engine, and enjoy Thomas-themed activities at the Imagination Station, including stamps, temporary tattoos and hands-on arts and crafts. Each year the tour grows, traveling to new destinations, adding new activities and welcoming new visitors.
You can also visit
HIT Entertainment's Website
for more information about this event!
**Disclaimer: I posted this information for my readers. No compensation was received.