I want to do a Fan Appreciation Giveaway for all the wonderful readers and bloggers I have met through my journey into blogging. I have been told by some I have done pretty well in the few months that I have been blogging. I would not have the Blog Stats I do without you!
I am going to giveaway a few things myself from some things I have acquired. I have a huge list of freebies and things I have won in my albums on my Facebook Page for
Z's Space
, and on my Personal -
Zabrina Caldwell
.
I have received many inquiries about the Jose Cuervo Margarita Ball Set I have, and Actually I have a few extra pieces - The Margarita Ball, Salt Rimmer, and Shaker! See Below!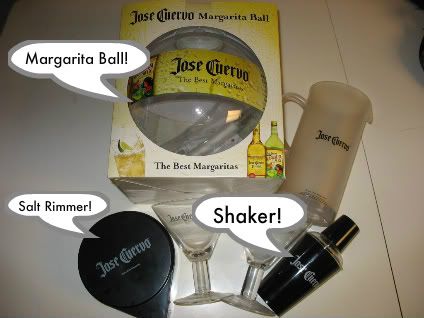 If you are interested in donating a prize please contact me at zcscooby@msn.com
I am going to put the pictures of the prizes on Facebook in an Album, but use the Rafflecopter on the blog to hold the giveaway. I have seen many bloggers having problems holding contests on Facebook. The entrant will have to like your Facebook page, and if you donate more than one prize choose another following option, such as follow on Twitter ot GFC... so on.
If at all possible, I would like to it be a prize with free shipping to the US.
Thanks again to everyone!