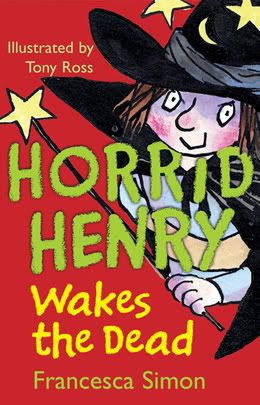 I absolutely love the Horrid Henry series. My son is only going to be 6 so he can only read a few sight words, but I love reading to him, teaching him as much as possible. We love reading Horrid Henry together and laughing the whole way through. Henry is always picking on his brother Perfect Peter, Moody Margaret and anyone else he can.
The first story in this book is totally cute. Horrid Henry and Perfect Peter race home from school and see who wins ultimate control of the comfy black chair. Why, you might ask. Well it is because whoever gets the comfy black chair gets to control the remote! Of course Henry doesn't want to let Peter watch his "baby" shows. However it doesn't turn out so well.
The second story is about Henry running for School Counsel President. He challenges Moody Margaret to an election, with zany promoting tactics on both parts, funny poster illustrations, Henry Wins! The end is a surprise.
The third section is too funny! Henry gets a present from his grandma, so does Peter. Grandma brings a purple dinosaur and a green one. Henry of course wants the Purple one, since he is the leader of the Purple Hand Gang! Of course mom and dad had to let Perfect Peter have his way. Until it happened, something terrible that gets both boys fighting over the green dinosaur.
The final story is about how Henry Wakes the Dead! he enters into a talent show as a magician, and rises a corpse for his show. Somehow, poor Henry's ideas and plans always back fire. He performs his act with not a hitch, until he is announced the winner...then Peter surprises him!
I love the Horrid Henry Series. These books are filled with a fun and different kind of humor. My son absolutely loves the opposites between Henry and Peter. It does remind me of my 2 kids themselves. Zach is Henry and my daughter would play Peter. I recommend these books for probably high elementary students, however we have fun reading them together.
**I am not sure of the order in which they were published.**
Horrid Henry
Horrid Henry's Underpants
Horrid Henry's Stinkbomb
Horrid Henry and the Soccer Fiend
Horrid Henry Tricks the Tooth Fairy
Horrid Henry and the Scary Sitter
Horrid Henry and the Mega-Mean Time Machine
Horrid Henry's Christmas
Horrid Henry and the Abominable Snowman
Horrid Henry and the Mummy's Curse
Horrid Henry Rocks
&More!!
You can read more about
Francesca Simon
on her website. You can also find the complete list of
Horrid Henry Books
. There is also a list of Francesca's
other books
for you to check out!
**Disclosure: I received a copy of Horrid Henry Wakes The Dead By: Francesca Simon for review purposes. No other compensation was received.