As a morning and nightly ritual, we all brush our teeth, we floss too! My kiddos are really good at the dental care. My son has his OCD moments, and he would brush his teeth 100 times a day, if you let him, and he does a fantastic job. My daughter, she likes to, but she is only 3 so mommy has to make sure they all get done right. Her bottom mandible sticks out further than the top, so she is hesitant to let me brush the back teeth on top, hence she already had 2 fillings, I was so sad! I however, have been taking extreme measures with her teeth. Since she doesn't spit well enough to use regular children's toothpaste, the dentist said to take Q-Tips and dip them in the mouthwash and spread it over her teeth. This way she gets some fluoride and and the germ killing power of using mouthwash, but not the danger of becoming sick if she swallows it. Talk to your dentist about your child, mouthwash is only recommended for ages 6 & up.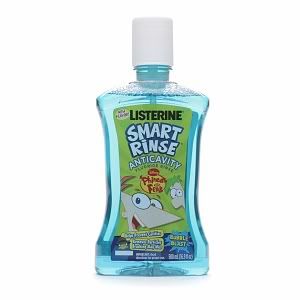 Zach loves Phineas and Ferb™, the TV Show. That made this NEW Listerine® Smart Rinse® a great choice for him! For some reason if you put a character a child likes on a product, they think it is way cooler that before. I usually use stickers for products that wouldn't normally be marked with one. Like, for instance, medicine. Kids hate it, slap a sticker on it and it is great! Zach loved the new flavor Bubble Blast, which is blue, and kids seem to like things that are wacky colors. I love this mouthwash, the flavor suited both kiddos, and it does have attractive packaging and a cool color. It smells super great too, and best of all, I know it works!
How does Smart Rinse Work?
* Unlike other fluoride rinses, LISTERINE® SMART RINSE® works like a magnet to attract the particles that brushing may leave behind and tints the particles – leaving proof in the sink of a cleaner mouth.
* The primary benefit of LISTERINE® SMART RINSE® is the fluoride offered – an important ingredient to help provide extra cavity protection. And because it's from the makers of LISTERINE®, SMART RINSE® kills the germs that cause bad breath too.
Listerine® has been around, well, forever! I actually use 2 kinds of Listerine® a day, I use the pre-brush Whitening and the Listerine® Advanced. I love how it makes my mouth feel super clean and refreshed, even after eating garlic/onions/etc. I believe that since their product has worked for so long, they know a few things about dental care. I am truly pleased that Listerine® has a line of oral care products for children.
Dr. Kaneta Lott has helped to shape the smiles of hundreds of children for over 17 years. A renowned national speaker and motivator, Dr. Lott is one of the most respected pediatric dentists in the United States. You can read more about her
here
. She has some tips to share for the readers!
Dr. Kaneta Lott's tips for Engaging Kids Early in Oral Care:
· Show, don't tell. Floss once a day and brush and rinse twice a day, every day. Share the experience with your child. When leading by example, kids are likely to imitate behavior and make oral hygiene feel less like a "kid thing."
· Clean to the beat. Brushing, flossing, and rinsing are all rhythmic activities. Play music to help kids enjoy oral care routines. On average, brushing should last two minutes and rinsing 60 seconds. Together these activities last the length of a typical song.
· Reward healthy behavior. Offer rewards for achieving brushing, flossing, and rinsing goals. Post a calendar in the bathroom and reward kids with a gold star for each day of great oral care. At the end of each month, praise kids for a job well done.
You can also go
here
, and see tips by age group. You can also download a
rewards calendar
. There is also a cute
game
to play, you blast germs and learn more about oral care.
Buy It:
LISTERINE® SMART RINSE® can be purchased at food, drug and mass merchandise nationwide. LISTERINE® SMART RINSE® is now featuring PHINEAS AND FERB™ in addition to BARBIE™ and BATMAN®.

Wint It!
One reader will receive a 16.9 fl oz Bottle of Listerine® Smart Rinse® Phineas and Ferb Bubble Blast Flavor & A REACH® Total Care With Listerine® fresh flavors - Fresh Mint Floss!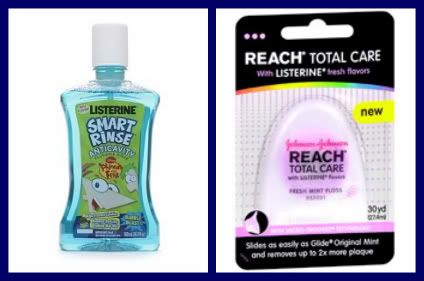 **Disclosure: I received Listerine® Smart Rinse® Phineas and Ferb™ for review purposes. My opinions are my own. No other compensation was received.