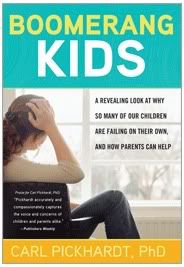 I want to start off by saying, I loved this book! Pickhardt has a great theory of how to prevent your teens from becoming "boomerang kids". Boomerang Kids are the kids who really aren't kids anymore, but still can't make it on their own. They always end up where they started. Hence like a boomerang. This book is intended to help parents prevent their children from failing after high school and college on their own.
Pickhardt does a wonderful job describing the reasons behind the 20 to 30 somethings and their procrastination, bad decision making, and terrible planning skills, as well as some other negative points. However, this book draws out the main causes and how to fix them before it is a problem. Pickhardt has broken this book down into stages that are very easy to understand and utilize. Most of the issues young people have today are emotionally based. Through having your children talk about their problems and express their anxieties, they tend to deal with independence much better. They are able to handle more stress and compute it correctly. He also shows how parents should and shouldn't support their children.
In encouraging children, teens, etc, to express themselves, they will then use those skills with their children, and help out other peers and so on and so forth. Thus creating a chain of happy, diligent, more independent young adults. I believe myself to be somewhat of a boomerang kid. I can handle things on my own, but when times get tough, it is almost like the carpet is pulled from under my feet and I end up struggling. I am not saying my parents didn't prepare me to be on my own, but some of these skills would have been nice to have. I am someone who keeps everything to myself instead of expressing my feelings/emotions. I am happy to have read this book, especially since both of my children have special needs. I am sure they will have a lot of struggles to deal with, and I hope to have the tools to help them make it. I want them to be able to live a healthy, happy life, of their own that is. I definitely recommend this book to any parent that has a child from grade school to even the older 30 year old that needs help. I believe it is never too late to try to make things better.
**Disclosure: I received a copy of Boomerang Kids By: Carl Pickardt for review purposes. No other compensation was received.