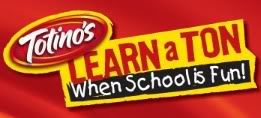 I wanted to share a couple videos about Totino's Campaign "Learn A Ton When School Is Fun".
You can watch some other videos that are listed on the right
here
!
Because understanding that fun is essential to the learning process, Totino's has chosen Gerald Richards, CEO of the non-profit organization 826 National which focuses on collaboration and creativity in the learning process, as their spokesperson. Gerald is a respected advocate for youth and education and he also shares a common goal of helping to make America's schools and the learning process more fun and enriching, with the Totino's brand.
I wanted to pass along the following tips Gerald provides for parents and teachers, in partnership with Totino's to support this unified goal and ensure that students are having fun, both inside and outside of the classroom:
· Creativity is a classroom staple. Encourage creativity in every area, including writing, drawing and in subjects like science. Kids need to know that there's not always a right answer; sometimes, education is subjective and experimental.
· Learning can take place outside school walls, too – field trips are a great way to make learning fun. Venturing beyond school boundaries for a hands-on approach excites students and can help spark, or reinvigorate, a passion for learning. Teachers can even consider taking "mini" field trips to the school library or auditorium for a change of scenery and a new lesson.
· Time outdoors, be it for recess or after school activities, allows kids to explore the world beyond the classroom and is often the place where lifelong lessons are learned. Taking a break outdoors during the school day – even if it's just having lunch outside – allows youth to recharge and has been shown to help enhance concentration and learning in the classroom.
· Through programs like Box Tops for Education (BTFE) and the Totino's "Learn a Ton When School is Fun" sweepstakes – which will award four schools across the country with 250,000 Bonus Box Tops, the equivalent of $25,000 – parents and teachers can help bring fun projects to life that otherwise might not be possible due to resource and funding limitations.
I really love the BTFE program! We collect ours and make sure to send them in every chance we get. I would love to see our school benefit more from this program. I always tell all the moms I meet that this is a great program, and if you are purchasing the products already, why not just rip them off and send them in? I even offer for them to give them to me and I cute them all out. If you're not participating, please read more about the program here, and maybe you'll decide to start collecting
Box Tops
!
**Disclosure: The above information was provided by MyBlogSpark. No compensation was received for this post. All opinions are my own.