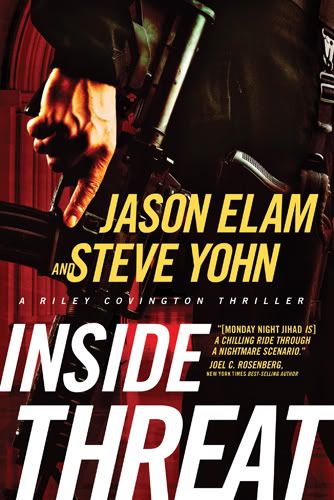 Description:
After taking two football seasons off, Riley Covington is attempting to make a comeback in the league while trying to forget Khadi Faroughi, now on security detail for a prominent senator.
But a new attack turns both of their lives upside down yet again. During a state funeral, terrorists overrun the National Cathedral and take senators, congressmen, and their entourages hostage, including Khadi. This new generation of The Cause is made up of homegrown terrorists—an inside threat to the security of the nation. They release most of the hostages, but Khadi and several others are kept behind as significant bargaining chips.
The Cause pledges to behead one member of Congress each day throughout the month of Ramadan as a punishment for their own country's rejection of Islam. Despite the protests of Counter-Terrorism Division director Scott Ross, Riley races to CTD armed with a plan and a fierce determination to rescue Khadi at all costs.
Review:
Inside Threat is the fourth novel in Jason Elam's and Steve Yohn's collaborative Riley Covington series. I did not read the other books in the series, but I was not deterred from the story line at all. The main theme to the book is about a fictional yet, possible, terrorist attack. The twist is the terrorists are US-born Islamic people.
An agent involved in the case is a Muslim born woman names Khadi Faroughi. She is captured and held hostage, and goes through a great deal of praying and soul searching. The story line is excellent and action packed, and yet spiritual in a graceful way. There is no preaching, a few small curse words, but an excellent mind gripping action story, with the intrigue of romance wrapped up in it also. The end is not what I expected, and I don't want to give it away. I do believe I will be buying the other 3 books, just to see what I missed. I recommend this book to anyone who loves the kind of book you can't put down, and just feel the need to read all at once as not to forget anything as the story goes along.
**Disclosure: I received a copy of Inside Threat By: Jason Elam for review purposes from
Tyndale House Publishers
. No other compensation was received.