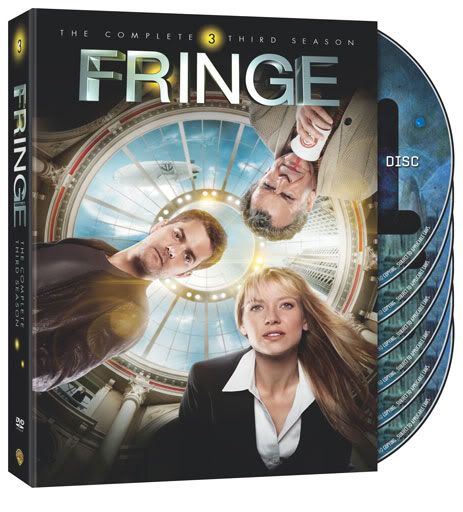 In case you missed it:
Pre-Order your season 3 on Blue-Ray or DVD today!
I don't know if everyone is familiar with the TV Show Fringe, but this show is amazing! It is a beautiful combination of science fiction, mystery, investigation, and best of all a parallel universe! I absolutely love the characters in this series.
Olivia Dunham is an FBI agent investigating the spread of unexplained phenomena. She does, however, have a counter part known as "Fauxlivia" in the Prime Universe.
Doctor Walter Bishop was a former government researcher of fringe science who was institutionalized after an accident which left his assistant dead. Hid son Peter dies at a young age and he takes Peter from "Walternate" in the parallel universe. "Walternate" is the U.S. Secretary of Defense in the parallel universe who strikes a war with the prime universe after Walter abducts his son Peter.
Peter Bishop is an outside consultant that Olivia beings into work with his estranged father, Doctor Walter Bishop. Dr. Bishop abducted Peter from "Walternate" from the parallel universe after his own Peter dies at a young age.
There are other great characters also.
In Season 3 of Fringe, Olivia and her alternate version switch places – wherein each Olivia becomes trapped in her respective alternate universe. If a version of you existed in an alternate universe, what kind of different decisions would the alternate you make?
The mystery of the universes deepens in the 22-episode third season of Fringe. The Fringe team escapes from the parallel universe – except for Olivia, trapped in the other world and replaced in ours by her double, who turns Peter and Olivia's tentative relationship into a love affair. Then Olivia returns, bonds of trust fray, ever more bizarre and terrifying phenomena occur and secrets that stretch back to 1985 threaten to destroy our universe. Or theirs.
Pre-order your copy of Fringe: The Complete Third Season on DVD here today:
http://bit.ly/o2MYBv
!
**Disclosure: I have been hired by Warner Bros. WBWord division to promote Fringe: The Complete Third Season on DVD/Blu-Ray.