Welcome to Take Over Tuesday, a Facebook and Twitter hop, hosted by

Closer to Lucy

,

The Thrifty Things,

Have Sippy Will Travel

, and

3 Princes and a Princess 2

. Each week we will have either a Twitter or Facebook Hop.

This week, it's Facebook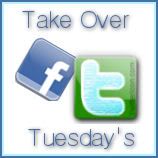 Our spotlight is one of my favs! She's one of those bloggers that ya just in generally like them as a person. Reviews, Giveaways and a lil piece of Z in every post :) I'm talking about Z' Space Reviews!
Follow her blog, like her on Facebook, or tweet on Twitter
I am a pre-med student turned stay at home mom to two wonderful children
with special needs. I gave up my medical doctorate to take on the adventures
of parenting when I was pregnant with my son. I had returned to the medical
community and then I found out I was having my daughter 3 years into my stint at
a local hospital. Shortly after, I met my wonderful fiancee, who is an amazing
father to my children. I have always been an opinionated person, I love
filling out surveys for new products and ideas. I thought I could put that
enthusiasm into use on a blog, which is me time, hence Z's Space -
Reviews.
A few little things just about me, I love anything Blue! I love
Investigation Discovery and anything educational. I am addicted to sweepstakes
and blog giveaways! You can join me if you like or even just to chat, I love
being sociable!
Now leave your Facebook link in the linky and follow the hostesses. We will follow you back.
Follow as many people as you like and leave a comment on their page to let them know you are a fan. Remember, following back is appreciated!
get the InLinkz code
I am super excited to included in the HOP! Link up everyone and have a great Tuesday!