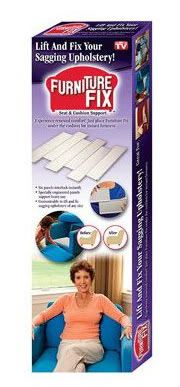 In this economy, conserving money is crucial. Whether you're a family struggling to make ends meet or an individual working three jobs to support yourself, it is a financially stressful time and buying brand new furniture isn't always manageable. Stress no more. Introducing the Furniture Fix,
https://www.furniturefix.com/
, an innovative money-saver that helps give your couch a facelift.
The Furniture Fix has six panels that are effortless to assemble. The panels directly interlock to one another and are customizable, making the Furniture Fix accessible to your sofas, chairs or beds. In addition, the panels are exclusively made to support heavy use. For only $14.99, the Furniture Fix will give your sagging fixtures the firmness you always wanted. The Furniture Fix is available online at
https://www.furniturefix.com/
and at national retailers, such as Bed Bath & Beyond and Wal-Mart.
This little item does wonders for a sagging couch or sofa. You will probably need to order 2 of them if you are putting it on a sofa, mine was only about 2 panels short to fit the whole way across our couch. You can definitely notice a significant difference in with or without the Furniture fix. I would recommend trying the Furniture Fix before replacing your furniture due to sagging cushions! This is an amazing product, and is simple to assemble and apply to the item. Definitely a must for dorm furniture that needs some help.

One lucky reader will win their own Furniture fix (one unit - 6 panels)!
**Disclosure: I received a Furniture Fix for review purposes. No other compensation was received. All opinions are my own.