A lot of you know, I am a smoker, well... was a smoker. I have taken about 2 weeks to fully review this product. I was serious about quitting smoking, since I know it is not good for me, and it is quite expensive, plus they keep raising the prices on the stuff. I was very excited to review this product, as well as bring you the results.
If you head over to the
HERE
you can read the story behind the Vapor King System.
This system us super easy to use. The e-cigarette is only made up of 2 parts, as apposed to several parts other brands have. The battery and the cartomizer. There are several ways to charge the batteries. There is a wall charger, USB charger, an auto charger, and a slim wall charger. There are a few other accessories for your V4L e-cig also, such as the carrying case, lanyard holder, and the manual pass through USB port.
The
cartomizers
are refillable, which is great, I hate wasting things. The cartomizers can be purchased for $9.95 for blanks, and $10.50 for most other flavor/nicotine filled. They offer 500 flavors to tempt yourself with (as well as different nicotine strengths) also, however, I am a menthol smoker, so I chose Traditional Menthol (Cowboy Menthol), I was thinking Cowboy, Marlboro - it was a pretty good match to my normal flavor of cigarettes. You can also buy the
"Nobacco Juice"
in a variety of flavors to refill the cartomizers with. This saves money and they are available in a 30 ml which fills 25-30 cartomizers. Each cartomizer holds enough liquid for about 200 puffs (or about 3/4 of a pack). There are 2 kinds of cartomizers, Cool Carts and WOW Carts. However, I am not an expert on these, and I received all Cool Carts. Please read the
FAQ here
to decide which is best for your use.
I have to say this system really worked! With in 3 days I was not smoking cigarettes at all, with no headaches, and I don't feel like eating everything in sight. I have had some real troubles quitting smoking, I am allergic to the adhesive on the patches, I can not take the pill form medication because of medication I am already taking. As for the gum, that is too expensive, and I think honestly it tastes gross! The main reason I couldn't really quit, I really like smoking. I know it sounds terrible, but I really like the habit of smoking as well as the feeling of stress relief sometimes.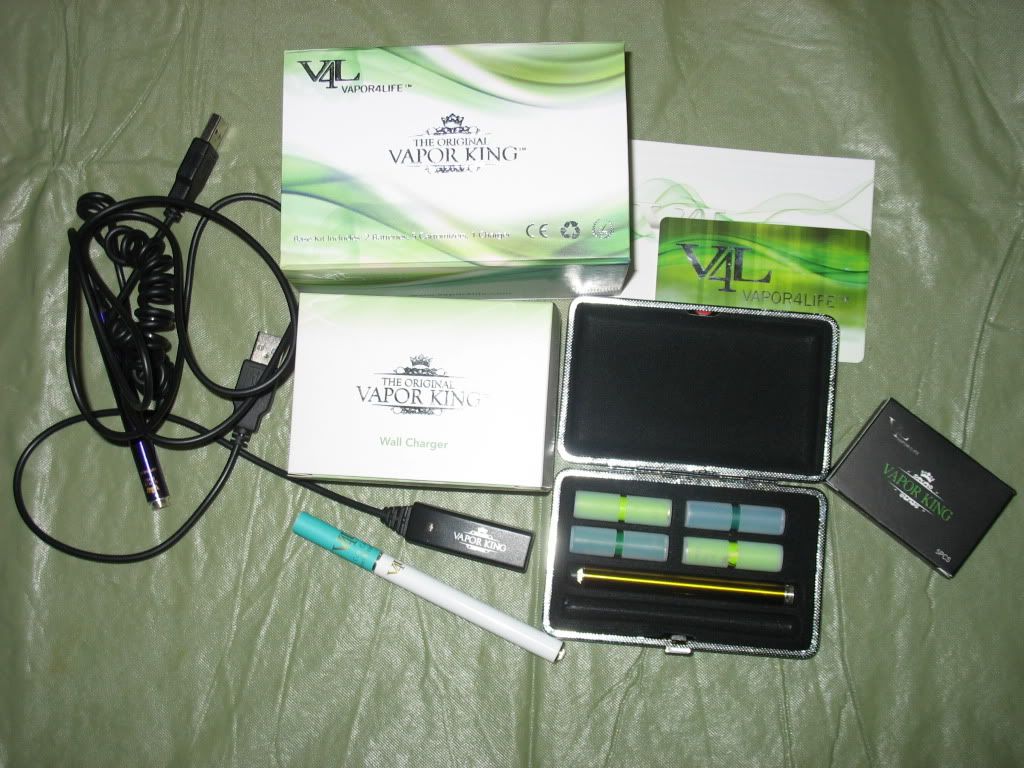 I am glad I chose the Vapor4Life system, and was privileged enough to get to review this amazing system. I was a surprised to see that the ends of the batteries look like bling, and light up blue and purple (my 2 batteries are this color, they may vary). At first I thought it was ridiculous. However, after I started using the system, I felt better, with no cravings for "real tobacco" cigarettes. After I felt better, I could have cared less how ridiculous the light looked on it. I feel so much better in general. I am not coughing up a lung each morning, or everytime I am smoking. I am amazed at how I just generally feel better. So I am happy to report, I am now a NON-Smoker! I haven't even been using the e-cigs, not because I don't like them, but because I want to let the whole habit behind. I am planning on handing the system over to my parents and getting them some "Nobacco Juice" for the cartomizers. I will probably have to buy another kit because they each smoke and one will not be enough. I feel amazing since I don't smoke anymore, I just hope they could some of that same feeling after smoking all the years they have.
I definitely recommend this system as a great alternative to smoking, or to help you in quitting. This system was amazing in aiding me in my journey to be healthier, since I am not able to use traditional methods to quit. Head over to
Vapor4Life
and order yours today!
**Disclosure: I was provided the above pictured
Vapor King Kit
for review purposes. No other compensation was received. All opinions are my own.