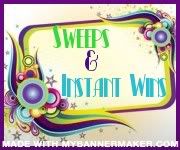 I have had a lot of luck winning sweepstakes and instant win games. I mean, I haven't won a million dollars or a new car, but the things I have won were awesome. I have gone to the movies, attended concerts, received products, games, and much much more just for spending a few extra minutes online entering these online contests. My favorite place to find these winnable games is
Sweeties Sweeps
. If you look on the left side bar, there is a banner for her page. I love getting a little extra to help out. I went to Rockstar Uproar Tour last year for FREE from the Bud Light Lime Concert Series sweepstakes, I saw The Green Lantern in theaters (Doritos promo), and many more films with free tickets. I have won countless $5 to $50 visa & American Express prepaid giftcards, not to mention the store gift cards during their promotions, Kmart, Dollar General, Family Dollar, Giant Eagle, Old Navy, The Gap, Buckle, Journeys, Borders Books, JC Penny, Amazon.com etc...
I want to share these contests with you all so you can take home some winnings too. Another blogger also keeps a running list of the most winnable sweepstakes, Freebies 4 Mom updates constantly and the list is usually of easy to win instant win games. You can check out her
Sweeps4Mom HERE
.
Here are a few of my tips, which, everyone does their own thing, but this has worked for me. I use Google Chrome, if the game is not available on that browser I will use Internet Explorer. On either browser, I save the sweepstakes in my bookmarks/favorites so I can easily access them each night (yes I play EVERY night). The ones that will not work on Chrome are saved on the IE favorites. Each night, I mean, since I have had such good luck, I usually get up around 3-4 AM EST (I am in PA) and start entering. I mean you can win anytime, it just seems like from 3 AM on till around 6-7 AM I have the most luck. I am a stay at home mom, and I can get them all entered and done before the first one goes off to school, which makes this relaxing MOM time (lol). It also is a great feeling to see that Congratulations screen! I can not guarantee you will win, but heck it is a shot right?
I am working on a page just for sweepstakes. I know it is easy to miss some good ones since Sweeties Sweeps is full of fun amazing contests! Keep an eye out for sweeps posts, and the Sweeps page should be published soon!
**Disclosure: This post is for informational purposes only. No compensation was received. All opinions are my own.