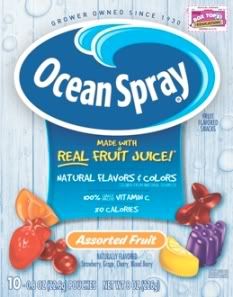 Want a snack your kids will love and that you can feel good about? Check out NEW Ocean Spray® Fruit Flavored Snacks available in two delicious flavors, Berries & Cherries and Assorted Fruit!
With 80 calories per pouch, Ocean Spray Fruit Flavored Snacks contain 100% Daily Value of Vitamin C and are gluten free. Plus, they're made with real fruit juice+ with natural colors and flavors* so you can feel good about sharing with your family.
These treats also feature two Box Tops for Education® to make it even easier to support your local schools.
Look for Ocean Spray Fruit Flavored Snacks in your local supermarket.
Visit OceanSpray.com
for more information!
These Fruit Flavored Snacks are made with apple, pear, and cranberry juice concentrate. See package for a list of complete ingredients. They are not intended to replace fruit in the diet.
*colors from natural sources
**Disclosure: This information was provided through PSSST... Newsletter. All information can be found through PSSST... website and
readers may also join
for their own updates!