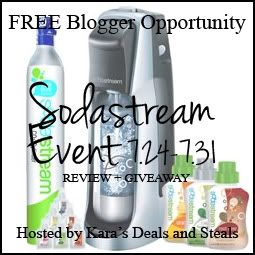 Per Kara's Deals:
Sodastream has kindly sponsored a Sodastream Fountain Jet- Soda Starter Kit for me to give away. They also provided one for me to try and review with the giveaway. This will be a week long giveaway and you can choose one free link (Facebook or Twitter) to be on the Rafflecopter.
Get a second link free of your choice (no GFC please) by putting an announcement on your blog. You can use this announcement post:
https://docs.google.com/document/d/1Wgz4SJozvMA9BAIM0YuGvaIq02GS9T4qmNJ4FVwYags/edit
If you opt out of the announcement post and want additional links, please pay $1 for each additional link. Send this payment as a gift to karabearblu@gmail.com
Giveaway Dates: 7/24-7/31
Prize Package:
Sodastream Fountain Jet – winner's choice of color (black/silver, red/silver or white)
*1 carbonating bottle, reusable for up to 3 years
*Reusable carbonator to fizz up to 60L of soda
*Variety 6-pack of popular sample-size flavors
*3 full-sized flavors of the winner's choice
Feel free to join the Cash Bash giveaway group to keep updated on all of Kara's Deals and Steals giveaways and share yours!
https://www.facebook.com/groups/278794472209925/
Thanks for joining! This one should be fun!
**Disclosure: I received no products or compensation for this post. All opinions are my own. Z's Place will be included in the entry options for this giveaway.