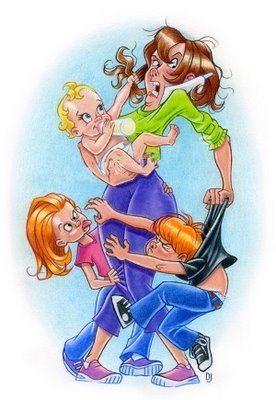 Whew, made it through more craziness for my 2 kiddos and the 2 foster kids! I am happy that everything is settling down and I will be able to return to blogging regularly and getting prizes out on time. I actually still have a couple gift cards to mail out, from the Fan Appreciation Giveaway (3 I believe). I do apologize for the delay, they have gone from my car to my fiancee's car, back to the house, in my purse, and just never made it to the mail box or post office. I have been filling out forms and such for weeks, scheduling appointments, attending CYS hearings, plus my kids already had their own schedules of events before these 2 came. However, the improvement I have seen in these 2 kiddos, is worth every minute of it. They are doing so well, learning at a fast pace, and getting on a schedule themselves, as well as getting that structure children need to learn and make it through.
I am stuck in a place now where my kids are so jealous, as mom has always been there for them, teaching them, guiding them, helping them, etc... Now, they kind of have to share me, and I do try to divide my time equally, but it is so difficult. I work with the 2 foster kids during the day while my kids are at school, but their needs don't just end when mine come home and are ready for their attention and help. This is causing me some emotional problems, with everything going on, I am sure anyone would be kind of down and out at this point. I just feel bad because here are these 2 kids that need so much love and attention, but yet, so do mine...It is hard being torn between kids who never had anyone or anything really, and your own kids who are used to being taking care of, loved, happy and healthy. It is super hard to explain. I did receive an email from a reader who said she took in a couple kids too, so she knew how fast paced each day was, and the emotional wear on your own family unit.
Right now, all the main paperwork is finished, we have applied as Kinship/Foster caregivers, as Ken is their uncle, so he can use Kinship. We have turned in all of our papers, filled out all the clearances, we still have to do fingerprints for the FBI check, but the place is only open until 4pm...bummer since some days we are gone until 6pm or 7pm. After going through all this, I really believe that people should have to go through this process to have their children.
For instance, my home had to be inspected, like a regular state funded foster home, REMINDER: I already have 2 children of my own... I had to remodel somethings, rewire somethings, paint over things, have a water test done since we have a well here at the farm house... They had to install all these safety things, ok I am about safety, but these cabinet locks, putting in a new medicine cabinet with a lock on it...a little much. Not one of these kids bothers any of that stuff, why you may ask? Because they were TAUGHT not to, explained to why these things are dangerous. Mr Yuck Stickers all around! This is how I remember being taught.
Just with cleaners, medications, so on, yeah, I keep them up, in safe places, out of reach and curiosity, but curiosity doesn't get the best of someone if they have the answer to their question already...just as I am a gun owner, my parents, grandpa, etc...all gun owners. Never locked them up EVER in my lifetime that I remember. We were explained what they were, shown what they do, and experienced with them to understand the danger of them. My kids wont even point plastic guns at anything they could hurt or break. I mean just playing cowboys and indians making sound effects, but NEVER just out of the blue with the Nerf gun or something right at a person. I just don't understand it, I guess since the way I was raised worked for me and seemed legit. My kids are great with things. I mean they do normal kid stuff, crayons on the wall, paint on the floor (instead of the paper on the easel), messes at dinner and so on. I just don't see the point of hiding things from kids. They should be taught about those items and understand the severity of these things. A person who is ignorant to something looks for instructions, kids can not read. Therefore they experiment. I believe if they have knowledge about things, they will be safe from those dangers. What do you all think?
Back to this Kinship/Foster caregiver certification...now if every person had to do this, they may understand the impact that kids have on your life, and they way things have to change. I know had Ken's sister (the mom of these 2 foster kiddos) had to do any of this, should would never have had them. She would not have done all these appointments, hearings, evaluations, etc...It is hard, I know I am doing it everyday. These are the reasons my kids biological dads do not do anything for them, it takes responsibility and effort. We each had to have 5 references filled out, create a fire escape plan (I mean the drawing blueprint like at doctors offices, we already had a family play of course!), 12 hours training a month for child related things, counseling to cope with the kids emotional needs etc... Absolutely insanity! I did not have to do this to have my children. I did not need parenting classes to bring them home and raise them, but these foster children, I need to be top notch certified. Seems incorrect, especially with what they already have been through. I am sure things are so much easier when you gradually have children, I know a 4 child family can work, it is just so hard when they are received already 19 months old and 5 years old. Then you have to fit them and their needs in into your family routine. It is working, just takes lots of time!
Anyways, I am done with my rant...I will have up a Purex Plus Oxi Review & Giveaway before the end of the night 3 Winners!!! Watch the Facebook page for the post!
**Disclosure: This post is for informational purposes only. No compensation was received for this post. All opinions are my own.